The restaurant industry revolves around providing excellent dining experiences to customers. In such a competitive landscape, it is crucial for restaurants to not only attract new customers, but also nurture existing relationships to encourage repeat business. This is where restaurant CRM (customer relationship management) software comes into play. With this software, establishments can enhance their customer engagement, increase customer satisfaction, and ultimately drive business growth in this dynamic industry.
What Is Restaurant CRM?
CRM is the technology that enables businesses to interact with customers, nurture relationships, and gather valuable customer data. While this software is widely used across various industries, it is particularly popular in the hospitality sector, including restaurants and hotels. The restaurant CRM serves multiple purposes, such as collecting and storing customer information, facilitating personalized communication through channels like emails and text messages, and providing insights into guest behavior.
CRM for restaurants plays a crucial role in engaging customers throughout their entire lifecycle, increasing the likelihood of repeat business. In addition, restaurant CRM system is designed to seamlessly integrate with other essential tools like point-of-sale (POS) systems, loyalty programs, and reservations systems, ensuring efficient data sharing across the restaurant's tech stack.
The Benefits of Restaurant CRM
Implementing a CRM system in a restaurant business can yield numerous benefits and significantly enhance overall operations. From streamlining customer interactions to optimizing marketing strategies, CRM software for restaurants offers valuable tools tailored to the unique needs of the restaurant industry. Therefore, by fully utilizing the software restaurants can gain these four main benefits.
Consolidate and safeguard customer data
An integrated restaurant CRM is essential for consolidating and safeguarding customer data. It automates data collection which eliminates manual entry, and integrates with the POS system to provide insights into customer behavior. With security measures, you can ensure data safety and accessibility. Overall, the CRM simplifies data management and enhances marketing efforts with data stored on a single platform and encrypted using advanced technology.
Gain insights into customers
CRM software for restaurants provides valuable insights into your customers by consolidating their interactions and information into a single profile. With integrated data from various platforms, the CRM organizes crucial details like spending history, reservation times, and ordering patterns. This comprehensive understanding of each guest helps you grasp their behavior, dining habits, and sales trends.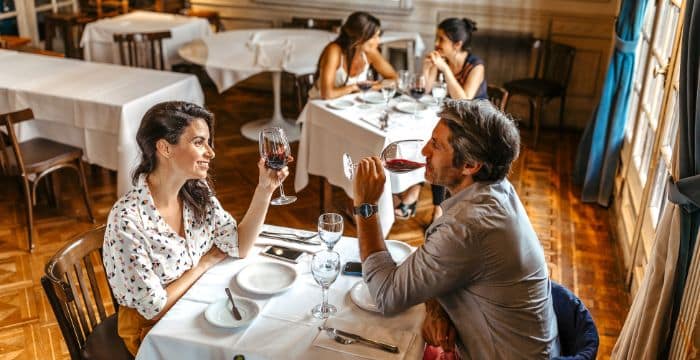 Additionally, by tracking booking patterns and visit history, you can optimize your marketing efforts. Furthermore, recording specific data such as dining preferences and food allergies allows you to deliver personalized experiences, catering to the preferences of your most loyal guests, such as their favorite corner booth for special occasions.
Analyze sales trends and boost sales
By utilizing collected data, restaurants can gain insights into customer behavior and ordering patterns. Integrating this information with other systems allows businesses to identify trends and make informed decisions. Additionally, an integrated CRM system that combines loyalty programs and CRM functionality can drive repeat business through targeted promotions. This way, customers will develop a habit of choosing the restaurant even after the promotion ends, resulting in boosted sales and increased revenue.
Optimizing restaurant upselling and cross-selling
Optimizing upselling and cross-selling in restaurants is achievable with a CRM system. Integrated restaurant CRM fosters customer loyalty and enables targeted marketing strategies that deliver personalized and high-value recommendations. By leveraging customer profiles, servers can make informed suggestions aligned with individual preferences and purchasing history. All in all, CRM technology empowers front-of-house teams to provide personalized experiences.
What to Look for in Restaurant CRM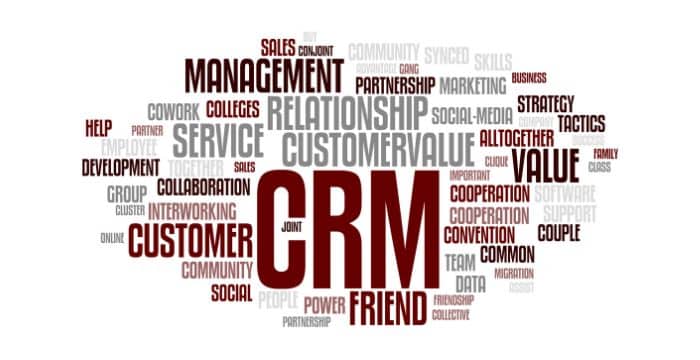 When looking for a restaurant customer relationship management, it is important to consider specific considerations in what a restaurant CRM should offer. By focusing on these considerations, the key aspects, you can ensure that your chosen customer relationship management software solution enhances your restaurant's operations and drives growth.
Features and their functionality
Each CRM system offers a range of features that vary in complexity and functionality. Some only have basic data collection capabilities, while others provide more advanced features like guest segmentation, automated guest tagging, and marketing messaging. Thus, it is important to consider the specific needs of your restaurant in order to determine which restaurant CRM system will be the most suitable choice.
Pricing and cost-effectiveness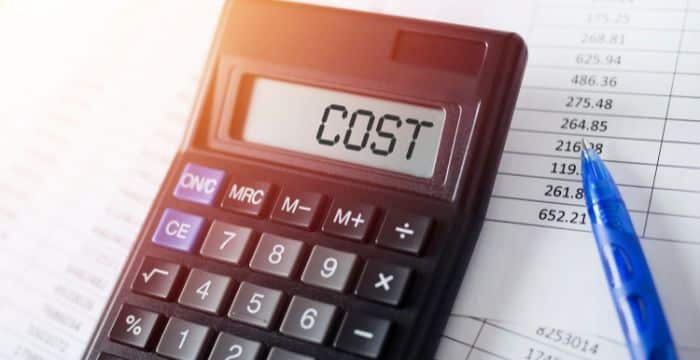 Pricing and cost-effectiveness are crucial considerations when selecting CRM software. The primary objective of implementing a CRM is to enhance the guest experience and ultimately increase revenue. Therefore, it is important to choose a CRM that aligns with your restaurant's budget and doesn't have a negative impact on revenue. It is essential to carefully review the pricing structure and be aware of any hidden charges or fees which could significantly impact the total cost of the restaurant CRM software.
Integration capabilities and compatibility
Consideration of the integration capabilities and compatibility with existing software is crucial for restaurants. As we know, many restaurants already use digital systems like reservation or table management software. By choosing a restaurant CRM that can smoothly integrate with these existing systems, restaurant owners can maximize the utilization of guest data from various sources.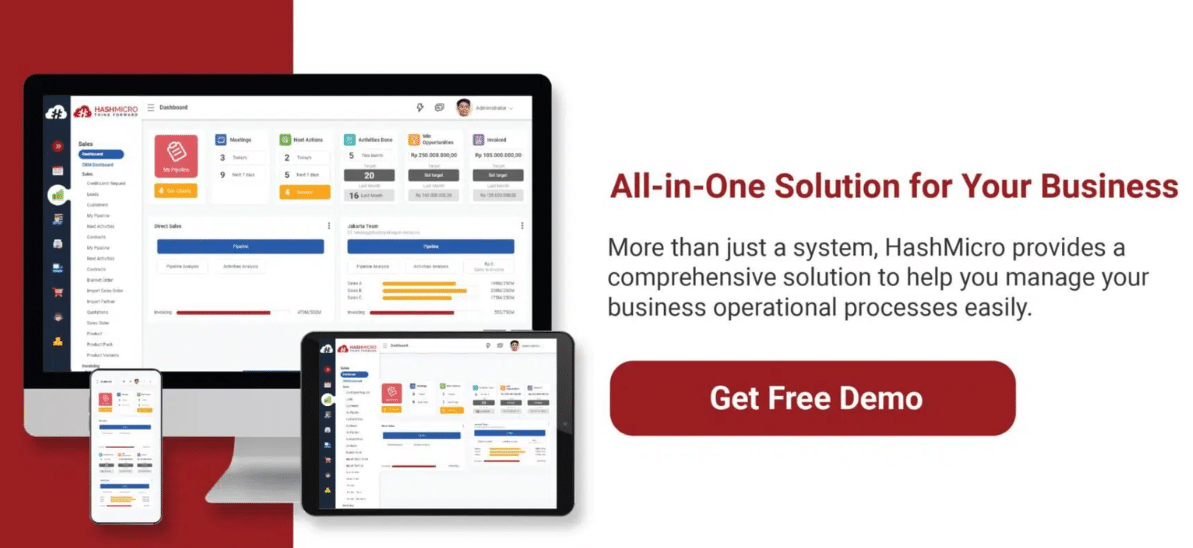 6 Best Restaurant CRM in 2023
In 2023, the restaurant industry continues to recognize the value of customer relationship management systems for their business operations. With fierce competition and evolving consumer demands, restaurants are seeking CRM and Marketing automation solutions that offer comprehensive features and functionalities. Therefore, we have curated a list of the six top-rated restaurant CRM options for 2023.
HashMicro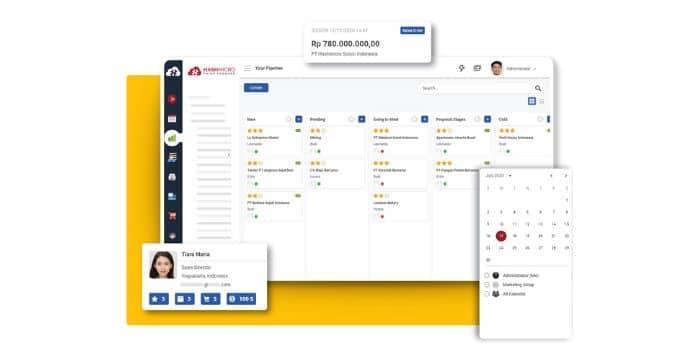 HashMicro's CRM-Sales, is one of the leading Sales Management Software in Singapore. With this restaurant CRM software, sales teams can unlock their full potential and achieve success. CRM-Sales from HashMicro will revolutionize the sales process, enabling smarter, faster, and more effective selling strategies.
With CRM-Sales, restaurants can gain these benefits which surpass expectations:
Timely payments by optimizing cash flow through automated reminder settings
Streamlined sales process, minimizing time-consuming manual tasks and focusing on increasing sales conversions
Valuable insights into marketing efforts by identifying effective lead sources and making informed decisions
Enhanced accuracy in calculating sales commissions based on individual salesperson's achievement of sales targets
Furthermore, this software has a wide range of features, which are Quotation & Sales Order Management, Multi-Price List, Sales Target Management, Payment Follow-Up Management, Sales Commission Management, In-Depth Analytics Reporting. Not only that, but CRM-Sales can also seamlessly integrate with other essential systems, such as:
Purchasing System
Inventory Management
HRM System
With HashMicro's CRM-Sales, restaurants can transform their sales processes, drive growth, and achieve unprecedented success in the highly competitive industry. Moreover, the pricing is affordable with the addition of a Productivity Solutions Grant (PSG) up to 50%. You can also try out a free demo to get a feel of how the software works.
Toast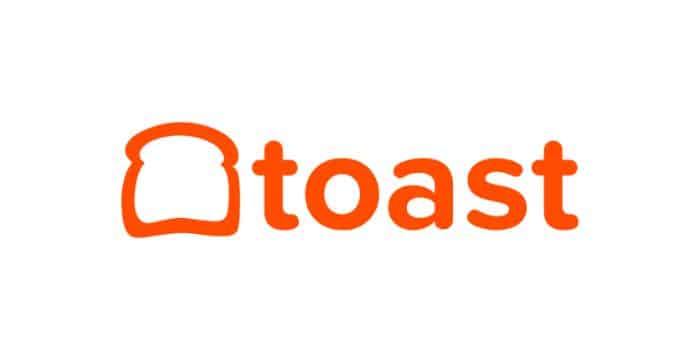 Toast is a restaurant POS and management system that includes CRM software, focusing on email marketing. This helps restaurants collect basic guest information and build an email list for marketing. With Toast, restaurants can create segmented email lists and send tailored marketing messages, which can be automated based on guest behavior.
SevenRooms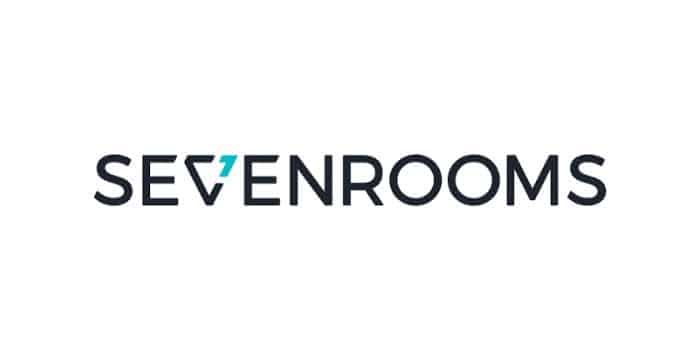 SevenRooms is a CRM software used by businesses in the hospitality industry, like restaurants. It offers features like marketing automation, guest profiles, and customizable tags. With its integration capabilities, integrating with restaurant reservation and point-of-sale systems, it ensures smooth data flow between the different systems. SevenRooms also provides a free trial, and pricing details can be obtained upon request. Overall, the system caters specifically to the needs of hospitality businesses.
Eat App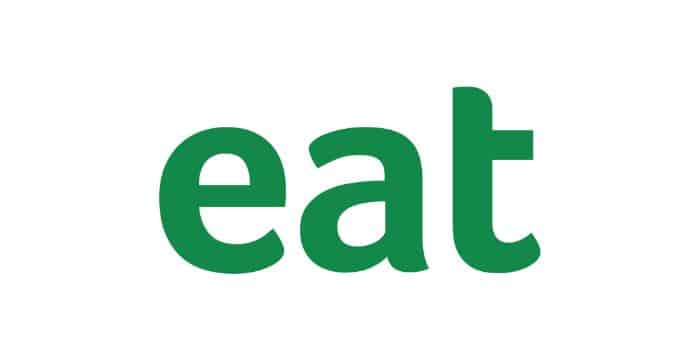 Eat App is a restaurant CRM system that offers features for table management and reservations. The software can combine guest data with marketing campaigns to enhance customer service and build relationships. It allows restaurants to collect and manage guest data in one place, including details like birthdays, preferences, and allergies.
Eat App's software also provides segmentation capabilities and enables customized marketing messages. Additionally, it offers automated guest tagging and feedback collection through surveys. It is compatible with table management, reservation, POS, and phone integration, allowing restaurants to connect their systems to a centralized guest database.
OpenTable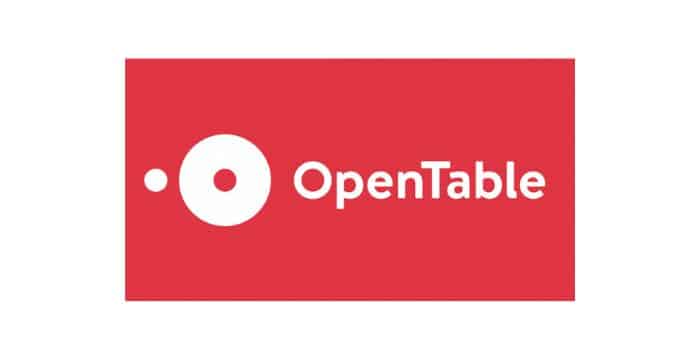 OpenTable is a restaurant reservation and table management software that includes a built-in CRM system for building customer relationships. It offers a centralized database to collect guest information and allows restaurants segment and email customers based on their preferences. The email marketing feature provides campaign insights like ROI and revenue.
OpenTable's CRM enables auto-guest tagging based on preferences to track important guests. Additionally, the software also offers a server management feature to assess server performance. OpenTable's CRM system can be integrated with POS systems and used with its own table management and reservation system.
POSist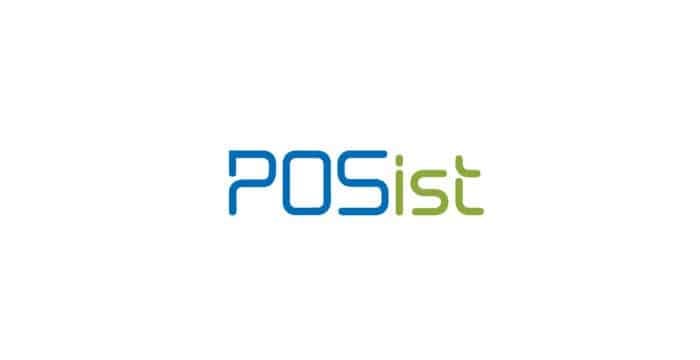 POSist is a restaurant management system that offers CRM as part of its overall package. It provides a centralized customer database and the ability to share customer data across multiple outlets. This software collects guest data from various sources and allows segmentation based on preferences and visits. It also offers targeted email and SMS marketing. POSist can also integrate with other products, such as POS systems and online ordering systems, with each product must be subscribed to individually.
Conclusion

As restaurant CRM systems provide valuable tools tailored to the unique needs of the restaurant industry, implementing one can bring numerous benefits to restaurants, including overall business growth in a competitive industry. In 2023, there are several top-rated restaurant CRM options available, such as HashMicro's CRM-Sales, Toast, SevenRooms, Eat App, OpenTable, and POSist. These systems can help you streamline operations and drive success for your restaurant business.
One of the systems, HashMicro's CRM-Sales, offer you affordable prices along with a Productivity Solutions Grant that you can claim up to 50%. Moreover, you can also learn more about how this software works through its free demo. For more detailed information about the CRM-Sales, you can kindly visit HashMicro's website or contact us here.