For those of you who are still actively applying for jobs, writing a job application letter or cover letter is one of the important things for you to know. The presence of this document is very important in the recruitment process. Companies can use the help of a complete HRM system to facilitate the recruitment process. Cover letters attached by job seekers are also able to give a good and lasting first impression in the minds of recruiters or their trusted HRM system. This document also has the potential to provide greater opportunities for applicants to be called for job interviews.
Especially for a company that uses an online HRM system. The system will be able to go through multiple jobseeker documents in a short time. It is very important to have fulfilled the document such as a cover letter. A good HRM system will be able to track and recognize multiple documents for a better recruitment process. For companies, you can learn about the HRM system pricing scheme calculation before deciding on getting one.
Unfortunately, getting a job these days is not as easy as it looks. Many people are still constrained by the application or process of applying for jobs or the files that are not correct and appropriate when applying for jobs. In this article, we will provide further explanation regarding the meaning, structure, and sample job application letters for several positions that you must know.
What is an Application Letter?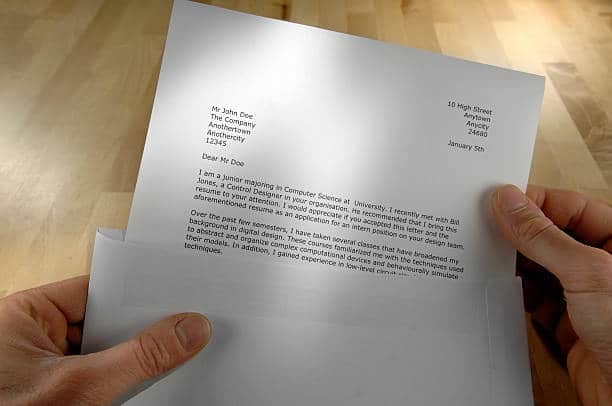 An application letter is a standalone document you submit to a potential employer to express your interest in an open position. This document explains who you are as a professional and an individual. The purpose of making this letter is as an application to fill a job in accordance with the vacancies offered. In other words, this letter contains a resume of information on a person's skills. And also the experiences for consideration by recruiters who follow up on the application selection process. For better experiences, document management systems can help you manage documents safely and are also environment-friendly.
A good application or cover letter can spark the HR manager's interest and get them to read your resume. On the other hand, a bad application letter might mean that your application is going directly to the paper shredder. So, to make sure this doesn't happen, it's essential to know how to write a convincing cover letter. In this letter, you must introduce and promote yourself properly without making it up. In your letter, you may also want to show your familiarity with the company to which you're applying. Attach an effective cover letter to your well-written resume. The result is your cover letter will quickly show recruiters you're both qualified and a great fit for the role. 
Read more: This is How to Get Your CV Detected at ATS (2021)
Tips for Writing a Job Application Letter
Writing a job application letter seems like a challenging task. However, if you take it one step at a time, you'll soon be an expert at writing these letters to send with your resume. Follow these steps to make sure you include information about yourself and your professional experience that will appeal to a hiring manager:
1. Use a professional format
A job application letter should be more professional than a thank-you card or an email to a coworker or friend. The alignment of the document should include single spacing, one-inch margins, and left alignment. It's best to use a traditional font, like Times New Roman, with sizes from 10 to 12 points. attempt to keep your application letter to at least one page. When a hiring manager reviews your application letter, they're going to get their first impression of you as a possible employee. So take time to format it professionally and keep it concise.
2. Create a heading
You need to use a proper business heading for your letter. The heading should include your name and get in touch with information, the date, and therefore the name and address. If you send your application letter via email, you'll eliminate your name and get in touch with information from the header. And put it at the rock bottom of the e-mail after the signature instead. By including the knowledgeable and detailed heading. You'll make it easier for the hiring manager to follow up with you regarding the position.
3. Do not forget to address the letter to the hiring manager
In your research, attempt to find the name of the person reviewing applications for the work. Address your letter to the present person with a standard business greeting, like "Dear Mr./Ms." and their surname. If you're unable to seek out the preferred gender pronouns (she/her, them/they) of the individual reviewing your application, you can also use "Dear [first and last name]" or "Dear Hiring Manager."
Also, you can simply look at this writing format:
Examples of Application Letters 
The following are some samples of documents that you can use as an illustration in writing a job application:
1. Simple job application letter
2. Entry-level job application letter
3. College student job application letter
4. Email application letter for Job
Conclusion
From the discussion about the sample job application letter described above, we hope that it can help you to succeed in the process of applying for a job to your dream company. Start writing a cover letter as well as possible so that it will increase your chances of qualifying for the interview stage. You can see several examples of cover letters that match your status and dream job field. 
For recruiters, you can also use supporting software to simplify the recruitment process. This is important because you do not need to spend a lot of time and effort selecting thousands of application letters from participants who register. Therefore, you need the help of the most complete HRIS Software from HashMicro. EVA Recruitment Management has many benefits, such as monitoring the recruitment process easily and quickly and reducing recruitment time. In addition, another benefit is scheduling interviews automatically and improving recruitment efficiency. Now, you can get the best candidates with an easy process. Contact us immediately to get the best deal!