Preparing financial statements is often a challenge for companies, especially if it is done manually. Because of that, the existence of accounting software helps to record every accounting transaction efficiently. Each account registered in the books will automatically attached to the worksheet, making it easier for businesses to detect any recording errors in business transactions.
HashMicro presents the most complete accounting software, get a full-fledged Accounting System with robust features to manage your finance such as cash flow management, journal entries, and reconciliation. HashMicro's accounting software is also People network-ready for seamless invoicing management.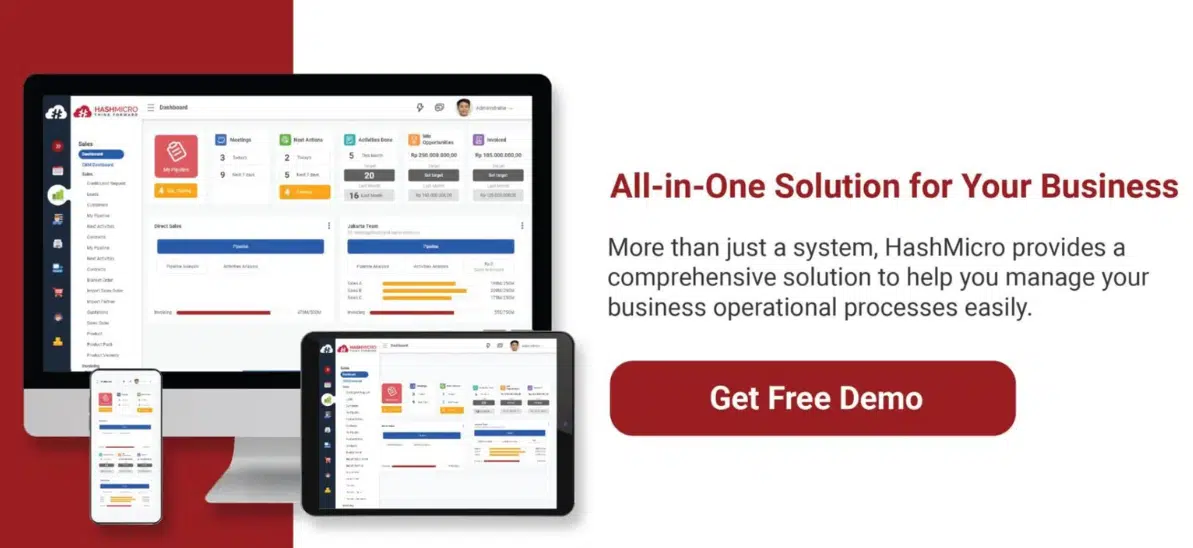 Table of Content
What is a Worksheet?
A worksheet is a tool for preparing financial statements to ensure that accounting entries are made correctly. It can also help track changes to accounts from one period to the next and prepare year-end reports.
This basis is not an actual financial statement, so it cannot replace the accounting records' position. However, company management still needs to make predictions about what happens in operational activities every day to control the required expenses.
Types of worksheet
Divided into several types that have been named according to the number of debit and credit columns. The working paper must also contain information about the company's name, worksheet, and the period for which it is prepared, placed at the top center. The format's examples are 6 column form, 8 columns form, 10 column form, 12 column form.
The elements included in these forms are:
Account number: helpful in filling in account numbers in the general ledger
Account name: contains filling in terms of general ledger accounts
Trial balance: fill in the data that has gone through the adjustment process, the rupiah figures, or the value of the related account
Adjustment: contains adjustment paragraph
Trial balance after adjustment: general ledger balance that is following the conditions when preparing the financial statements
Profit and loss: load income and expenses after adjustments and trial balance adjusted
Balance Sheet: holds all real accounts from the adjusted trial balance column
Benefits
There are a lot of benefits of using an accounting worksheet for your company. Here are some of them:
Planning ahead
A worksheet shows the manager what the company's final financial report looks like and prepares interim financial statements. Managers can use this information to make critical business decisions. On the one hand, we still uphold compliance with regulations. A worksheet allows an organization to prepare and report operating data that conform to specific guidelines, such as generally accepted accounting principles.
Manage your company worksheet with accounting software from HashMicro, providing ease and efficiency of time and effort needed.
Check calculations
Accountants can confirm whether accounting entries were obtained correctly by checking formulas and calculations in spreadsheets before preparing final financial reports for the company. The worksheet is designed for internal purposes, so the format is flexible according to internal demands and needs.
This media contains some vital information related to financial statements, such as the estimated balance before the adjusting journal, the adjusting journal forecast, and the estimated balance after the adjusting journal.
Preparation of financial reports
Creating accounting reports is a collective endeavor that requires the financial intelligence and business insights of a wide range of personnel, from accountants and financial managers to cost controllers, budget controllers, and investor relations specialists.
This worksheet also allows companies to prepare short-term financial reports such as monthly, quarterly, quarterly, or six-monthly periods.
Accuracy
Help resolve a common concern that companies face, namely data errors. Suppose company leaders make decisions based on misinformation. In that case, the business can lose money, especially if the decision is "binding" the organization for the long term or involves many funds.
This is a valuable mechanism for identifying problems that may occur in the accounting process. Employees will find it easier to visualize the whole process up to making financial reports and ensuring the completeness of the data.
Conclusion
Using an accounting worksheet makes it easier to prepare a company's financial statements. However, with an accounting system, the process can also be much easier. You can create financial reports without having to write them over and over again.
We understand your concerns, and immediately turn to accounting software to provide solutions for all your company's operations, especially accounting management. Get a full-fledged Accounting System with robust features to manage your finance such as cash flow management, journal entries, and reconciliation. Our Accounting Software is also People network-ready for seamless invoicing management.
Experience the free demo right now, seize the opportunity today!