The four largest professional services networks in the world, which include the international accounting networks, are generally referred to as "The Big Four". They are frequently grouped together for several reasons, including the fact that they are all comparable in size to the rest of the market, both in terms of revenue and workforce.
They are all equally capable of offering a wide range of professional services to their clients, particularly accounting, which uses accounting systems to manage finance. You can also check the price calculation for those kinds of software for your business. Now, let's dive into discussing what the Big 4 is.
Table of Content
Who are The Big 4?
Often referred to as the "Big 4," these organizations entirely control the sector and audit system of more than 80% of all US public companies. They are the top four accounting firms in terms of revenue that often use advanced accounting software for their business. They are Klynveld Peat Marwick Goerdeler, PricewaterhouseCoopers (PwC), Deloitte, Ernst & Young (EY), and (KPMG). These enormous companies also provide a wide range of management and assurance services in addition to tax advice. Among those looking to start a career in professional services. Because these corporations frequently work with Fortune 500 companies, they are both regarded as having appealing networks to work in.
The Big Four (Big 4) provide their clients with services in audit, assurance, taxation, management consulting, actuarial, corporate finance, and law. These four networks undertake the vast majority of audits of public firms and numerous audits of private enterprises. And with that, they are most likely to use the best-in-class people accounting software for massive enterprises like the Big 4. Here is the name of the companies:
Deloitte Lip
The top firm in the United States is Deloitte LLP (and in the world). The company was founded as two different businesses. As the business grew, it merged with other businesses, acquired them entirely, and established subsidiaries to become one of the largest corporations on the planet.
The business is frequently chosen by Fortune Magazine as one of the greatest places to work. Many of their entry-level staff are hired through their programs at universities. At $70,698, they also have one of the higher average starting wages among all industries. They have continued to grow at this rate for the previous four years.
Read also: ERP Solutions
PricewaterhouseCooper (PwC)
The second-best accounting firm in the world is PwC. This firm has expanded over the years, joining forces with other businesses before forming the organization as a whole. PwC offers seminars and training programs for its existing and future workers. The distinction is that their program is accessible to the general public and free to use online. Over the past ten years, the company's revenue has continued to expand steadily. This company provides its clients with a wide range of services, such as audit and assurance, consultancy, tax services, and others. This presents excellent opportunities for employees to identify their areas of expertise inside the business. It is also regarded as one of the greatest big businesses to work for. They came in second place in Diversityinc. Magazine last year.
Ernst & Young
From the top 100 accounting companies worldwide, Ernst & Young is ranked third. In 1989, their businesses also merged to create it. This big 4 corporation has more than 700 operations spread over more than 150 different countries now. They provide a wide range of services, including assurance, taxation, advice, transactions, and several more. The most recent merger of the corporation involved KPMG's Denmark division, which has the potential to greatly boost revenue and growth for both divisions. The future looks bright for Ernst & Young after a rise in growth and sales last year, and maybe it is a sign of even better things to come. They entered the worldwide mining and metals industry last year, which may bring about the much-desired expansion they are anticipating and planning for.
Related Article: Best ERP Solutions – Meet Business Goals in an Effective manner
KPMG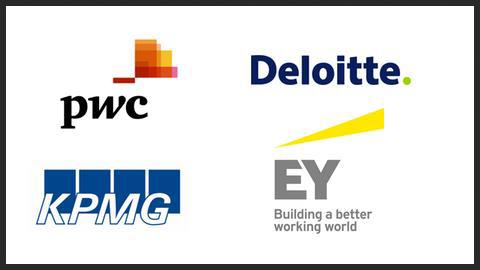 With more than 670 locations spread over more than 150 countries, KPMG is the last of the big 4 accounting firms. Additionally, the company is combining businesses to form KPMG. Despite having the lowest growth rate among the top four, they are nonetheless expanding, combining, buying out rival businesses, and adding new partners. Diversity.Inc Magazine has constantly chosen the company as one of the finest places to work number 23 on the list. Three key services are provided by KPMG. These consist of taxes, advising services, and audits. KPMG is a full-service firm since these three services can be further divided into several sub-services. KPMG, like the other main three big four accounting companies, spends a lot of time on college campuses recruiting the most talented individuals to join their big 4 businesses.
What Does Accounting Mean to Business?
One of the most important aspects of practically every firm is accounting. Small businesses may have a bookkeeper or accountant managing them, whereas larger corporations may have vast finance departments with many people. Management can make wise business decisions thanks to the information produced by many streams of accounting, including cost accounting and managerial accounting.
Concise and consolidated reports based on thousands of distinct financial transactions make up the financial statements that sum up a huge company's operations, financial status, and cash flows during a specific time period. Because of this, all professional accounting designations are the result of many years of education, demanding exams, and at least a few years of real-world accounting experience.
Related article: 4 Key Benefits of Using an Accounting App
Best Accounting Software for Accounting Business
Business organizations use accounting software to monitor their financial statements, cash flow, invoices, bank accounts, and purchase orders. These systems occasionally have customized features for specific business sizes, independent contractors, small firms, or large corporations. The accounting solution is frequently a key element of an organization's enterprise resource planning (ERP) system because it supports a crucial business operation. Here are some of the best accounting software for your business:
HashMicro accounting
HashMicro is the best-in-class people Accounting Software for enterprises. You can get a full-fledged accounting system with robust features to manage your finance such as cash flow management, journal entries, and reconciliation. Our accounting software is also people network-ready for seamless invoicing management. HashMicro has several main features, such as a financial dashboard, cash flow forecasting, fast bank reconciliation, accrual & amortization, people e-invoicing, and analytical reporting. This online accounting system offers inventory management, purchasing, and CRM sales systems. By integrating this advanced accounting software, you can minimize manual accounting procedures and optimize efficiency. You can also improve the accuracy by knowing the financial condition across all business units through in-depth analysis. In other words, you may as well increase your business profitability with the help of automated, accurate budget calculations.
Zoho Books
A complete accounting solution for companies of all sizes, Zoho Books manages money across a whole enterprise. Numerous financial activities, including payroll, transaction management, and banking are automated by the system. Customers can securely keep their payment information for recurring transactions in the client interface of Zoho Books, which also manages customer and supplier interactions. Users of the system can track reimbursable charges and manage several time sheets for various projects. You can view it using any web browser. The software doesn't require any downloads or installations to operate. Users can set up payment reminders and receive payments through online payment gateways. It is to manage clients and handle customer invoices online.
Odoo
The integrated set of business applications by Odoo includes the Point of Sale (POS) component. The module delivers uniform data across stores and has an integrated inventory management function. It is available both online and offline. A group of open source business modules, including accounting, marketing, warehouse management, and project management modules, and includes the POS module for Odoo. Wireless support, a receipt/label printer, customer history, inventory management, and automated ordering are some of the features of the POS module.
Retailers can use the email marketing function to send their consumer's personalized emails with information about sales and special offers. Retailers can even set up rewards and loyalty programs to provide their loyal consumers discounts and other promotional perks.
JD Edwards EnterpriseOne
JD Edwards EnterpriseOne is an Enterprise Resource Planning (ERP) and supply chain management solution that runs in the cloud. It offers ERP tools for the manufacturing, distribution, consumer products, and human resources industries. The system offers functions including business analytics, manufacturing, and many more.
It is reachable via a live internet connection. The software doesn't require any downloads or installations to operate. Specific modules allow users to access the functionality of the software. The consumer goods module enables users to manage the quality of products, supply chain, and transportation. While the manufacturing and distribution module enables users to manage various manufacturing activities.
Conclusion
Even if the smallest of the Big 4 is larger than the fifth-largest company & no current enterprise will likely ever be able to match the size of the main giants. The top spot has been held by the major four accounting companies with the best accounting software for a while. You must figure out an accurate forecast of your income using the top choices accounting system.

There are constant mergers and other business-related operations, as there are for the majority of companies in this industry. The companies usually use integrated advanced accounting software that securely imports all bank transactions. That is why you must get a full-fledged accounting system with robust features like HashMicro. We can create income statements, cash flow statements, balance sheets, capital changes, and so on within seconds. You can get a free HashMicro software demo & consultation with our business experts just by clicking here