Keeping an eye on employees in the workplace is a critical aspect of the human resource department's job. When workers break workplace regulations, human resources should take quick action. One of them write warning letter to the employee. Writing and distributing this letter aims to serve as a deterrence to workers who transgress, preventing them from repeating their errors. However, for this letter to become more effective, it must issued in line with the requirements of the Manpower Act. 
Table of Content
Definition of a Warning Letter
As previously stated, a warning letter is a type of business advice for workers who have committed breaches before their job terminated. This letter intended to serve as a warning and guide to workers to encourage them to become more disciplined at work. If the employee commits the same offense after getting the third warning letter, the company can terminate or lay off the employee.
In certain instances, the business may additionally provide a warning letter and an explanation for the employee's dismissal. This letter sent when workers frequently commit errors while failing to follow the company's rules and regulations. Termination of employment is a final option owing to the unruly conduct of workers who no longer regarded business employees.
How to Write an Efficient Employee Warning Letter
It is challenging to write an employee warning letter. While the facts may be straightforward, the document must very accurate since it will undoubtedly utilize in any disciplinary or legal actions. Thus, it must become factually accurate and objective. Prejudices expressed in the letter may used against the writer or company in a court of law.
Correct any errors in the letter. If you want your reader to take your work seriously, make sure it written formally and error-free. Furthermore, proofreading ensures that the desired message correctly conveyed. Notification letters serve several purposes. Keeping proper records of events is an excellent illustration of this if you need to revisit the disciplinary procedure in the future. Consequently, you should keep track of essential details such as the time, date, and individuals involved. Even if you've discussed the consequences with the employee in person, it's a good idea to put them in writing. Finally, conclude positively by encouraging them to engage in the process and retain their job.
Related article: Employment Contract| Matters, Types, and Examples
Examples of a Warning Letters
In general, the contents of this warning letter contain personal information about the employee, the kinds of breaches, and the penalties imposed. Here are some samples of warning letters that you may use as a reference to help you write your own: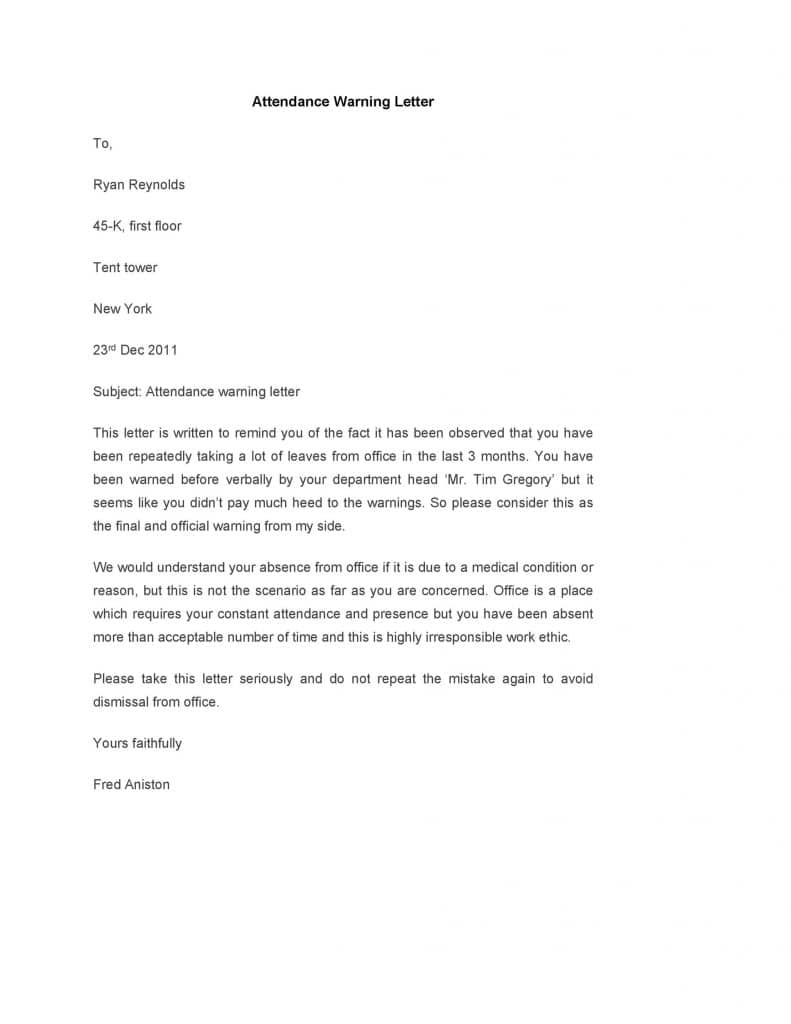 Important Aspects After the Creation of a Warning Letter
The HR firm's duty is to remedy the decrease in employee productivity. The HR Division does not need to send employee warning letters or impose layoffs if the situation correctly handled. Employees may need job inspiration or a conversation about personal issues.
Ensure that you have a thorough understanding of staff productivity management, for example, by giving inspiration, counseling, and focusing on the employee's success. After then, re-evaluate the employee's performance to see whether it has grown and improved. This activity will undoubtedly influence the company's policy in the future. Employees will become more productive and reduce layoffs as a result.
Related article: The Importance of NDA in Business World
Conclusion
A warning letter is a letter written and sent to workers who make errors or breach business policies. The severity of the infraction will determine the kind of warning letter sent. This letter is primarily intended to increase awareness of workers who have committed errors and encourage them not to repeat them.

However, HR often feels inadequate to handle personnel issues and operational tasks one by one. As a result, a system that aids HR operations, such as HashMicro's HRM System and the most comprehensive payroll application, is urgently required. You can handle leave and attendance lists, HR and personnel administration duties, and other operations effectively.
Related article: Quotation, A Must Known Thing for a B2B Business Owner!