Startups has grown into a global phenomenon with growing centers all over the world. The concept and functionality of startup hub centers have evolved since the 1970s, and it is still evolving. In the future, there will be more unique startup hubs and ventures based on one's intellectual abilities. However, the startup definition and purposes are still the same: growth, advancement, and global impact.
For several years, investors regarded startups as small businesses. This was a significant issue because the conceptual and organizational frameworks of a startup, small business, and large corporation are significantly different. Keep your company data, from the employee, financial, and other important information, with the best security system.
Automate all business processes from A to Z with the most complete ERP system. HashMicro delivers the best ERP software, with some excellent features to allows users to design, manage, and track data transfer processes between systems that can be customized . This article will discuss the definition of a startup, different types of startups, and a few steps to build your own startup.
Table of Contents
Startup Definition
A startup is a company that is in its early phases of operation. Entrepreneurs create a startup because they desire to create a product or service that they believe will be in demand. These businesses typically begin with high costs and low revenue, so they seek money from several sources, including venture capitalists.
Startups aim to disrupt industries and transform the world — all while operating at a large scale. Startup founders aim to provide society with something it requires but has not yet created—thereby generating high valuations that result in an initial public offering (IPO) and an enormous return on investment.
Six Types of Startups According to Steve Blank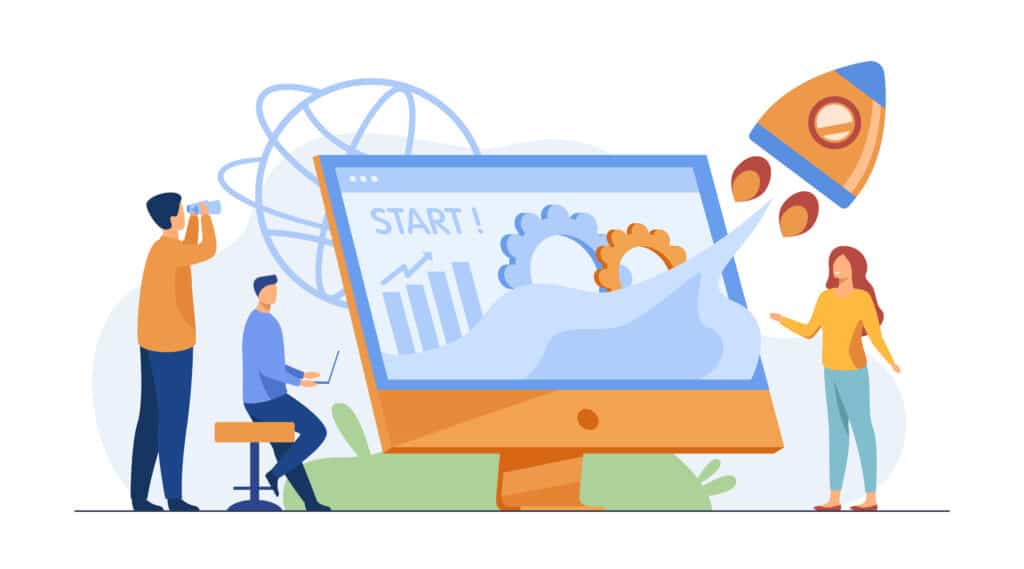 There are six different types of startups, according to Silicon Valley entrepreneur Steve Blank:
Lifestyle startups: work to live their passion
We see lifestyle entrepreneurs such as divers who run small dive shops or teach diving courses to earn their living. A lifestyle entrepreneur is someone who lives their life to the fullest, works for no one but themselves, and pursues their personal interest. Lifestyle startups are entrepreneurs who choose to make money by doing something they are passionate about and competent at. Voice coaches who provide singing lessons, writers who write books for a career, professional YouTubers who rely solely on YouTube for income, and so on. They are all lifestyle entrepreneurs.
Small-business startups: work to support the family
Small businesses such as coffee shops, beauty salons, grocery stores, travel agencies, electricians, and plumbers qualify as startups. The owners of this type of startup have little desire for world dominance. They do not wish to work for another person and instead start their own business to "support the family." They will not seek venture capital funding. Their capital comes from savings, bank loans for small businesses, and often from relatives and friends.
Also read: The Powerful Impact of Cloud ERP for Small Business
Scalable startups: born to be big
Unlike small-business startups, scalable startups' goal is not to make a living but rather to build equity in a firm that will eventually be publicly traded or purchased, resulting in a multimillion-dollar payout. Google, Twitter, and Facebook are just a few of the most recent instances of scalable startups. From the start, the founders have confidence in their creations to impact the world. They are continuously on the lookout for a scalable and repeatable business model. When they discover it, they begin looking for further venture funding to expand their businesses.
Buyable startups: acquisition targets
Some startups are founded with the goal of scaling, yet throughout their expansion, they are acquired by tech giants. These startups can be considered buyable; Instagram and WhatsApp are just the two examples. Facebook acquired both for $1 billion and $16 million, respectively.
Social startups: driven to make a difference
Social entrepreneurs are just as ambitious, passionate, and eager to make a difference as any other sort of startup. However, unlike scalable startups, their mission is to improve the world, not to gain market share or revenue for the founders. As you embark on your journey to transform the world, you must determine whether to incorporate your organization as a for-profit or a nonprofit organization–or possibly a hybrid of the two. The answer will be heavily influenced by the source of funds and your organization's activity type.
Large-company startups: innovate or evaporate
Lastly, there is this form of a startup that a large corporation controls, also referred to as corporate startups. They might acquire a buyable startup or create a new one from scratch to grow into new markets or provide new products and services. 
This is becoming more frequent as huge companies face greater pressure to innovate in response to changing consumers' needs, innovations in technology, and the emergence of new competitors. For example, ten years ago, Google developed the Android operating system in response to the growth of mobile devices.
Also read: Differences between Corporate and Startup to Define Your Career
How Do You Start a Startup Company?
Typically, a startup or small business begins with an idea. Then, you conduct market research to determine the feasibility of the concept and the current state of the market for your idea. Following market research, the next step is to develop a business plan that details your company's structure, goals, mission, values, and objectives.
Obtaining funding is among the most important steps. The funding can come from personal savings, friends and family, investors, or loans. Later on, a successful startup receives funding from venture capitalists, angel investors, or an initial public offering (IPO). Each time an investor funds a startup, they receive a portion of the company and become co-owners.
Conclusion
Our world is changing rapidly, and innovations and ideas are emerging to replace the old ones. Startups result from new ideas coming to life, changing people's lives, solving problems, and simplifying their daily routines. To help manage your startup, consider using CORE ERP Software from HashMicro. Our software can easily streamline your entire business operational process, from E-Procurement to Meeting Management.