You must be familiar with the term "receptionist", right? Especially if you visit a hotel, restaurant, or the company office. As the name implies, a receptionist is someone in charge of receiving guests who come, usually in the main lobby of a company or entrance. Unfortunately, this profession is often considered light because it looks relaxed and only silent in one place. Although sometimes it looks trivial, this job is actually very crucial.
ERP hospitality systems are often used by business owners to improve their reception services. For example, in managing visitors, restaurants, room reservations, events, to housekeeping is much easier with a centralized system.
In addition to using the system, the receptionist should always smile and ask about the needs of visitors. They must also always be ready. From this case, that the receptionist has responsibilities, conditions, and tasks that are equally important in a business. Because it is at the forefront and the first thing that guests will meet. This will be the first representation of the office. Therefore, this time we will discuss the receptionist, who is very important to the company.
Daftar Isi
What is a Receptionist?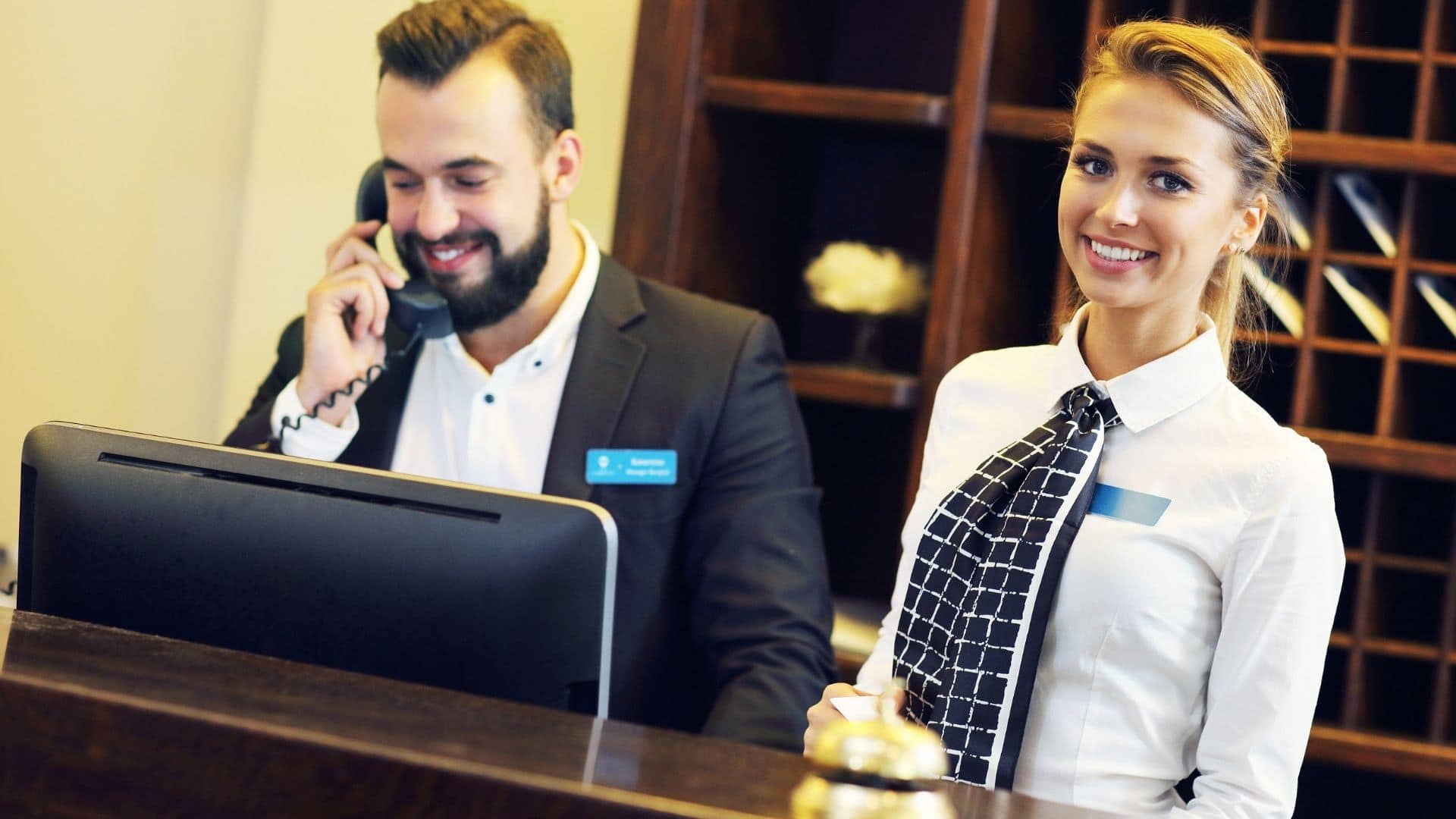 A receptionist is an employee who has the task of greeting, serving, and providing information to visitors, clients, or stakeholders in a company related to the desired purpose and information. A receptionist should be able to be the first bridge to provide information between parties and guests. The receptionist serves as a receptionist in a company, office, or hotel.
Typically, the placement is in the front or lobby to provide guests with easy access to the information while also serving as a representative of the company. In large companies, sometimes there are secretaries who are also receptionists for their leaders.
The educational background of being a receptionist is at least a high school or vocational school graduate, even better if the graduate is in hospitality, while if D3/S1 comes from the department of hospitality management or office administration, The salary of a receptionist is also very diverse, ranging from 2 million to 5 million rupiahs depending on each company.
Things the Receptionist Should Be Aware Of
Receptionists can determine the image of a company, although there are many other factors as well. But when guests first come to the company, they will communicate with the receptionist. A receptionist must not only have a beautiful face but also a tall body. But it must also have knowledge, a mature attitude, good and correct behavior. 
Here's what receptionists need to pay attention to when meeting guests or clients:
Don't make guests wait too long.
Friendly in greeting and reprimanding guests, asking politely about guests' needs and allowing them to fill out a card or guest book.
Pay attention to the interests of the company's guests. If the person they want to meet isn't there or is away, ask if he or she is willing to wait.
If the leader is unable to receive guests, give a good explanation. Don't offend the guest.
Pay equal attention to each guest and immediately make a decision if the guest is channeled to another part.
Direct guests, inform and assist the leadership in serving and making agreements with guests.
As a receptionist, you should be able to keep talking and understanding about what is and should not be.
Do not chew gum or small meals when facing guests or when receiving calls.
Avoid hanging out with coworkers at the reception desk, even more so if it has nothing to do with work.
Get rid of items that are not work-related at the desk.
Avoid wandering around the living room with slippers on or an untidy appearance.
Don't chat or gossip with coworkers while working.
Also read: The 5 Most Important Types of Software for Business Activities
Receptionist Functions and Objectives
As a diplomat
The receptionist serves as a diplomat who can demand to negotiate with guests. Sometimes some guests ask various questions. If they cannot find a definite answer, then they can delay it by using good and polite language. Guests who come certainly have different intentions and purposes, so the receptionist must be able to understand what the guest wants. In addition, the receptionist must also be a representative of the company in providing decisions in accordance with existing procedures in the office or hotel.
As a record-keeper
Guests who come also sometimes leave various messages for someone. As a receptionist, it is necessary to understand the procedure for receiving and delivering messages. As a result, the message can be both verbally and in writing. This function requires the receptionist to be good at language, verbal language, and written language according to the company's standard operating procedures (SOPs). The head manager will continue to monitor this, so the receptionist should always be ready and professional.
As a source of knowledge
As you already know through the explanation above, guests who come will often ask various things, especially asking the whereabouts of someone in the location. Therefore the receptionist must be a reliable source of information to provide certainty of any questions guests ask. The receptionist is also obliged to maintain the company's good relations with other departments. Having a good relationship will facilitate the job of the receptionist as a source of information.
As a guest analyst
Another function is to analyze the various guests who come. Therefore, the receptionist must be good at providing information to guests. Because the security of privacy and corporate secrets must be maintained. In addition, the receptionist must also pay attention to the behavior of suspicious and potentially detrimental guests.
As a salesperson
In an office or hotel, the receptionist can also serve as a salesperson by making sales of each product and trying to convince customers who come. Many things can be sold, such as products, hotel rooms, merchandise, services, and much more. Use POS software to facilitate receptionist activities in making sales, payment transactions, and managing customer data in one platform.
Receptionist Responsibilities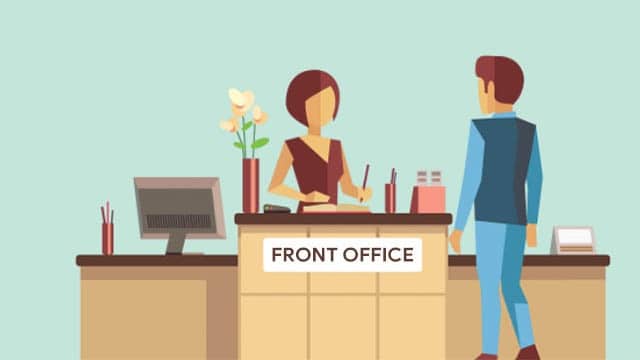 Being at the forefront makes the receptionist carry some responsibilities that are almost all related to others. Although the job looks simple, the responsibility is not that easy. The responsibilities of a receptionist include the following:
Receive incoming phone calls and connect them to the relevant department.
Provide information over the phone if someone asks about the company's products or services.
Welcome guests who come and provide information and references related to the visit.
Arrange a meeting between guests and the company.
Receive and research the information of visiting guests. 
Listen to guest complaints.
Manage administrative archives with regard to guests both in and out.
Receive and forward the incoming letter to the intended party.
Requirements to Become a Receptionist
Skills
Technical skills are important because when serving guests, a receptionist must have the ability to use the supporting tools on his desk. Such as how to use computers and telephones and connect them to the parties concerned, as well as having knowledge about the organizational structure and the company plan.
Personal skills are necessary in order to be able to manage his work, which is handling guests and also taking care of guests who come to the company. Therefore, a receptionist must be able to cooperate well with superiors, fellow co-workers, subordinates, and other departments. Therefore, the receptionist must have a sense of mutual help and respect. not only at work, but also away from work
Good communication skills so that you can say things in a straightforward, effective, efficient, and friendly way. so that guests do not feel disappointed even if their wishes are not fulfilled and can understand the situation through a good explanation.
Knowledge
A receptionist must learn general abilities, as they will accept guests with various backgrounds, such as culture, ethnicity, and even country differences, and they must know the culture or how to receive such guests. The receptionist must also know the organizational structure, duties of each position, and the company's floor plan. International language skills must also be mastered by the receptionist.
Special knowledge the receptionist must have, such as thoroughness, is important considering his duty is to handle the guests. In addition to welcoming arriving guests, the main task of a receptionist is his ability to sell products or services to the company. Then it is necessary to master the information about the production company. 
Personality
A hotel receptionist should have a pleasant personality. They must always be ready to help guests, enjoy connecting with guests and others, and be a good listener.
A receptionist does the same job every day. It is no wonder if you will feel bored, but boredom is the first thing to deal with. Because boredom can lead to carelessness in the receptionist's work. For example, if you like, face a company guest with an unfriendly face.
It must have a good nature because it must always provide the best service to every part of the company as well as to other companies. In certain companies, receptionists sometimes get the task of connecting the insides of the company via intra-company phone. In addition, it must also be friendly to other companies in order to project a good image of the company.
The receptionist, who is responsible for her work, will always try to complete her tasks well and on time without always having to supervise the boss.
A receptionist must be able to complete his or her work. Although there are often additional working hours, as a form of loyalty to the company,
Receptionists must be responsive in making decisions and quickly and appropriately deal with situations in the office lobby.
Conclusion
That's information about the importance of receptionists to the company. For those of you who want to become a receptionist or have worked as a receptionist in a company, this article is expected to increase knowledge about the profession. Starting from things that need to be considered, functions and goals, responsibilities, to the requirements of becoming a receptionist.
You can easily monitor guests who go in and out of it for those of you who own a company. HashMicro Visitor Management Software with Barcode and QR Code System, so that important data such as check-in and check-out times, destinations, people looking for, and others can be recorded paperlessly.