A customer loyalty program is one of the essential parts that must be maintained to increase revenue. Your existing customers are your most important source of income, especially amid the ongoing COVID-19 outbreak. Customer retention has become more challenging due to the implementation of social restrictions to prevent the spread of the virus.
There are a few reasons why customer loyalty is declining:
Customers don't feel connected to your brand

Weak brand equity

Lack of customer engagement 

Poor customer experience

Failure to meet customer demands
Another reason is changes in consumer behavior. For example, those who used to buy cosmetic products every month don't buy them anymore, as they're focusing more on essential items. This is mainly led by financial issues that have been occurring since the COVID-19 pandemic emerged.
Despite the challenges, you can implement a few ways to retain your customers during the crisis.
Table Of Content
1. Show Customers That You Care
Showing your sensitivity and concern is the one of the best customer retention methods that works. A consumer survey conducted by Jill Avery, a senior lecturer in the marketing unit at Harvard Business School, and Richard Edelman, the CEO of Edelman, showed that:
89% of consumers want brands to produce goods that help people deal with pandemic-related challenges

89% want brands to offer free or discounted products to healthcare workers, vulnerable groups, and unemployed people

54% are only considering new products if they address COVID-19-related concerns
Various brands have shown their concern for the pandemic through their campaigns. Nike made a live-saving call to action in their new campaign that admonished, "If you ever dreamed of playing for millions around the world, now is your chance: play inside, play for the world." McDonald's chose to redraw its iconic 'M' logo to signal social distancing.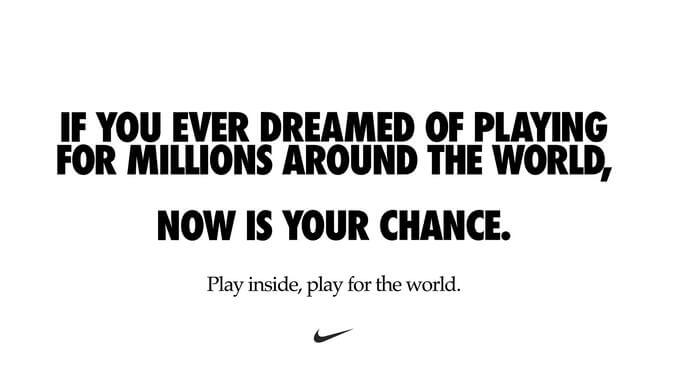 A similar yet different strategy was also taken by Walmart. Its campaign, the Retail Heroes, featured McMillion (the CEO) Zooming remotely from home to thank one million Walmart front-line employees,  referring to them as heroes.
You can work with a local community that helps provide donations to health workers or people who have lost their jobs. Simple words of concern through social media, product packaging, or newsletters can also help remind customers that you care about them during the ongoing crisis.
2. Try Personalized Approaches
At brick and mortar stores, people would spend more time deciding what to buy, because they want to have a look first. But when shopping online, people tend to look for items they want to buy immediately. Therefore, personal approaches are needed to encourage customers to make purchases. 
You can pull in consumer data to find those who checked your products on your website or through your social media ads. Then, you can display those products again on various web pages or via email. This method is known as retargeting or remarketing.
3. Adjust to New Customer Habits
Consumer behavior has suddenly changed, especially after lockdowns have been imposed. People are focusing on cheaper products. They are prioritizing their spending on basic needs and health products. In order to maintain customer loyalty towards your brand, you have to be able to adjust to their new behavior.
Providing discounts can be a great way to maintain consumer loyalty in the current situation. You can also make adjustments to your products, for example by producing high-in-demand goods such as staple foods, masks, hand sanitizers, medicines, and so on.
You might also want to check your inventory. Then, make sure your on-hand inventory contains the most wanted items. Avoid unnecessary purchases. Maintain your stock levels using the right inventory management system.
4. Boost Your Social Media Presence
Since you're unable to serve your customer face to face, it is important to let them know that your brand remains active. Social media is the best medium to connect your brand with customers. Posting on social media regularly will help remind them of your brand.
5. Create Relevant & Helpful Content
People will be more interested in your brand if they can find something helpful from it. Therefore, don't just focus on selling, but also on providing solutions. Increase engagement by sending your customers relevant and helpful articles. Conducting webinars is also worth trying.
6. Improve Your Customer Experience
People are in need of faster and easier ways to shop. If your customers find it hard to purchase your product or service, they might look for other brands that provide better shopping experience. Then, there are three things that you should do:
Improve the navigation on your website to enable customers to find what they look for more easily

Simplify the payment process for customers by displaying all billing information in a single view

Provides various payment methods (multiple payment gateway) to speed up the checkout process
7. Maintain Customer Loyalty Through Communication
Maintaining good communication with customers even in times of crisis can help improve brand perception. So review your customer history through a CRM system and send them messages reminding them to buy your product or service again. Allow them to contact you via WhatsApp or live chat. You can also send them periodic surveys and ask them to provide feedback.
As a leading ERP consultant, HashMicro is more than happy to provide your business with the right software solution during the COVID-19 pandemic.