SOP or Standard Operating Procedure is a rule and guide written out for every worker in the company and serves as the standard for its operations for effective and efficient work at a low cost. SOP can be an effective way to communicate changes in the way your business operates for your employees. To see if your employees have followed the SOP or not, you can view it through the software. You can control through a system whether your work has changed its working hours or not through HRM software for HR.
A company must produce a quality system to keep control of business processes running smoothly. So the creation of standard operating procedures should be short, easy to understand, and contains easily followed steps. In addition, it needs to be constantly updated annually to make sure they remain relevant to the organization's present needs.
In this article, we will discuss full the standard operating procedures in the company in full.
Table of Content
Why Does a Company Need SOP?
Apart from carrying out operations, SOP also affects customer trust to use products or services. That's why the standard operating procedure is so important for a company: to gain the customer's trust when opening new branches or producing new goods. Furthermore, you can use any help desk system to increase customer satisfaction. Whatever form or type, every company needs guidance to run the duties and functions of every element in the company. Well, if you want to find out more about SOP, check out the review below.
Also read: What is Management? – Its Importance for your Business
SOP Functions for the Company
SOP in a company has several important functions that will affect the success of company activities. Standard operating procedures also have the following functions:
Maintains a person's consistency in performing certain tasks or activities. The more consistent a process is from person to person, the less likely it is for quality problems.
Reduce errors with the detailed written procedure of set instructions are performed. When each individual performs the task as written, there will be a greater opportunity to reduce errors.
As a means of communication. The reason that a company needs SOP, which is in the interest of communication. Updating the standard of operational procedures with improvements in processes, and operating procedures, and also updating requires new training to provide a method for communicating the change of process to employees.
Also read: 7 Key Benefits of Using an Accounting System in Your Company
SOP Benefits to the Company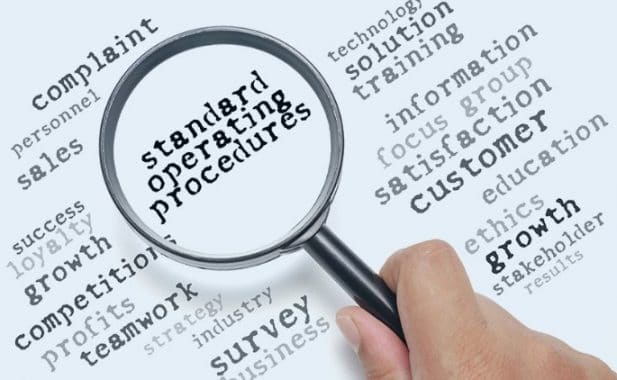 Bringing a formal standardization process and SOP documentation to your organization can provide many great benefits that can be realized. So here's the benefit of adopting operational standards at the company:
Frankness of information
Putting value only on production while neglecting safety, health and the environment will be at risk in the long run. So, a good SOP will provide all the necessary safety, health, environmental, and operational information. Therefore, it is better to train employees first than to face accidents, fines, and litigation in the future.
Bonus Tip: To provide training to employees first, you can use a competency management system to recommend employees who need training so that the ability provided by the company is equivalent to all employees.
Schedule adjustments
Every consumer, both from an individual to a company, must want consistent quality and specific products. The presence of SOP specifies the steps that help ensure that production operations run consistently to maintain the quality control of the process as well as the product.
Reduction failure
The making of SOP is crucial to helping to ensure that no failure has taken place in the manufacture of a process that could harm anyone in the surrounding communities. Following health and environmental measures can ensure risks that threaten the environment and the anger of society.
As a standard of training
The SOP functions as a training document for other management to knowing the process. In other words, you can use any Document Management System. Moreover, overall standard operating skills can provide a basis for standard training for new employees in specific jobs as well as for those who need retraining.
Improved job skills
The process of watching fellow workers has a standard that serves as a checklist for coworkers who observe performance to strengthen proper performance. When outlining proper procedures for a good SOP, any partner can use that SOP to train others and help improve his or her work skills.
Some of the SOP Examples in the Corporate Division
No business has an identical SOP list. Each business has its own unique and distinct markets, the businessman has his leadership style, and the industry has its best practice. So here for examples of SOP that we often meet in business, you may want to consider using it in your small business.
Production or operation SOP
Firstly, to create a production line of measures. To prevent production distortion and in line with an existing series of sequential operations.
The standard of equipment care and inspection procedures. For workers to observe the equipment conditions in the production process according to available standards.
New employee training is necessary to prevent bad things from happening in the company and also to improve the performance of new employees.
Finance and Administration
Ways of managing commercial loans up to the billing and payment process
Managing the process of commercial debt and maximizing cash flow while meeting all payment deadlines
Marketing, sales, and customer service
Initially, external communication approval rules like press releases, social media, advertising, etc.
How to prepare a price offer
Standardize the service delivery process, including the time to provide a response
Warranty rules, refunds, or exchange policy
The rules and manner of confessions or completion of complaints, comments, and suggestions of customers
Conclusion
Here are a few things that relate to corporate SOP explanation from definition, function, benefits, and examples in a company division that you might consider to use in the SOP for your company.
The Standard operating system in the making must be brief, it is easily understood, and also contains easy steps to follow. As a result, by applying this knowledge and making the standard operating procedures that match your business needs. It will boost team productivity and ensure the quality and consistency of success in the business. HR can use HRM software to set and assign SOPs according to company standards.
Well, for those of you who want to make standard operational procedures don't forget to make SOP on the financial division. With the SOP in the finance division, access to the company's finances in and out becomes easy and makes it easier to account. You can engage financial software to create an SOP financial division.
The use of online accounting software is very necessary to be able to ensure all financial and business transactions can record properly. Hashmicro is an Online Accounting Software provider that has adjusted its average accounting SOP. Provides accounting software on top of your pay for cash flow management automation, accounting reports, bank reconciliation, adjustment journals, invoice making, etc.

Related article: Get to Know about Financial Ratio!