Learning is a process in life that has no boundaries. Even a professional should still learn to improve their competencies. When you hear the word "learning", you may think it is a monotonous and tedious activity. However, learning does not always have to be done by reading thick books or watching lecture videos alone. You can make the learning process more enjoyable by sharing knowledge with colleagues. 
Knowledge sharing means discussing something new with friends or colleagues to exchange information, expertise, and skills. You can do it casually, such as having conversations with colleagues in your spare time. Or you can also do it in a planned manner, for example, by conducting it once a month, scheduled using a Timesheet Management Tool, where employees have the opportunity to share their respective insights and experiences at each meeting. In this article, you will get to know more about knowledge sharing, such as how to build it, when to start it, and its importance and benefits.
How to Build Knowledge Sharing
This activity is likely to occur if the work environment is supportive. Therefore, consider the following steps that you can immediately take to create a work atmosphere that can encourage employees to share their knowledge.
Open workspace arrangement
Office cubicle desks are increasingly being abandoned. Companies have shifted their offices into open offices; there's no longer a separator between desks. The reason why they choose an open office is to unite and strengthen collaboration between employees. When working in an open office like this, employees will be able to easily share knowledge while still doing their job.
Improving cross-division collaboration
Knowledge discussion is not possible if there is only one person. Collaboration is crucial so that everyone involved can benefit from this activity. In addition to collaborating with colleagues in one division, collaboration within the company also usually occurs across divisions. If done efficiently, the cross-divisional collaboration will trigger the activity so that there is an exchange of new ideas between divisions. 
Increase employee engagement
One thing that can increase employee engagement is the transparency and trust of the company itself, which can inspire employees to get involved. The meaning of being involved in this context is that they are committed and enthusiastic to do their respective jobs. There is a good cohesion or relationship between each employee in successful employee engagement. In this way, the opportunity for knowledge sharing will also increase. In addition, efficient employee management such as using an HRM Software can also make it easier for you to manage employee engagement.
Encouraging and instilling the right mindset
Today, there are many growth-oriented companies. There is nothing wrong with emulating the culture of these companies for you to implement in your company. One of the cultures we will discuss comes from Microsoft CEO Satya Nadella. He is known for leading a culture change at Microsoft by employing a growth mindset. Employees with a growth mindset will always be open to feedback that they use as a tool to boost their performance.
Give an example as a leader
Important qualities that a leader needs to have included having broad insight and being open to knowledge that they do not know. According to Bob Iger, the process of gaining knowledge so that an opinion or decision becomes more reliable is to take the time to hear and develop an informed opinion. Having the following qualities can build skill discussion in the work environment among your employees. As a leader, your behaviour and work will become your employees' attention. Therefore, creating a culture of knowledge sharing needs to start with the leaders themselves.
Also read: How to Implement Strategic Leadership in Your Business
When to Start Knowledge Sharing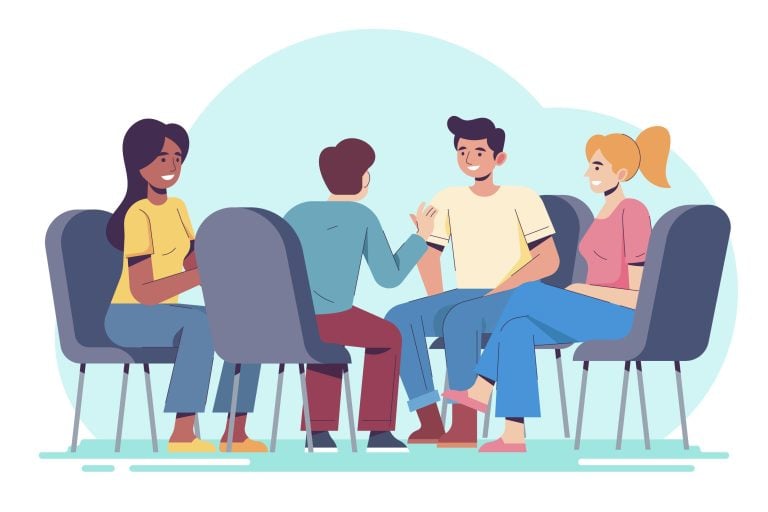 If you believe that your organization or company needs to implement knowledge sharing, then you should start the activity as soon as possible. When it comes to time management, you don't need to delay a change for the better. The ways to build knowledge sharing that we have described above are not absolute things you need to do from top to bottom. Evaluate the current state of your organization, then determine and prioritize what you need to do to implement this culture of sharing insight in your organization.
The Importance of Knowledge Sharing
An organization like a company, is like a sea of ​​knowledge that has no limits. Each employee has a variety of knowledge that one day can help solve a problem in the company. However, this knowledge will be in vain and limited if they do not share it with other employees. It would be best not to ignore the importance of knowledge sharing. Exchanging insights and information is very important to support better performance at work. The more knowledgeable your employees are, the more competent they will advance the company.
The Benefits of Knowledge Sharing
After knowing why knowledge sharing is essential for companies, you may be curious about what benefits will be obtained by doing knowledge sharing. These benefits include equalizing knowledge, increasing efficiency, encouraging leadership, encouraging innovation, and increasing employee productivity. There are many other benefits of knowledge sharing. With proper management, you can benefit from sharing knowledge between employees effectively. 
Conclusion
Knowledge sharing means exchanging insights and information to develop self-ability. Doing this activity in an organizational or work environment has many benefits for improving employee performance.
To help improve the performance of your employees to meet the standards desired by the company, you can use the Competency Management System. Help your employees hone their skills and achieve the desired performance with the system that can recommend employees with specific performance for specialized training.