Investing in Visitor Software might ignite different reactions in an organization. When the decision-makers receive the proposal they might frown. "Why should we spend much money to list the guests? Is paper not enough?" That would probably be the reason. They are not at the front desk every day. They don't know what it feels like a headache from managing the visitors and making sure that they're not up to something bad. Furthermore, they don't know that the software does not only help the receptionist and security. It helps a company thoroughly.
Here are the 5 reasons why investing in Visitor Software will benefit your company.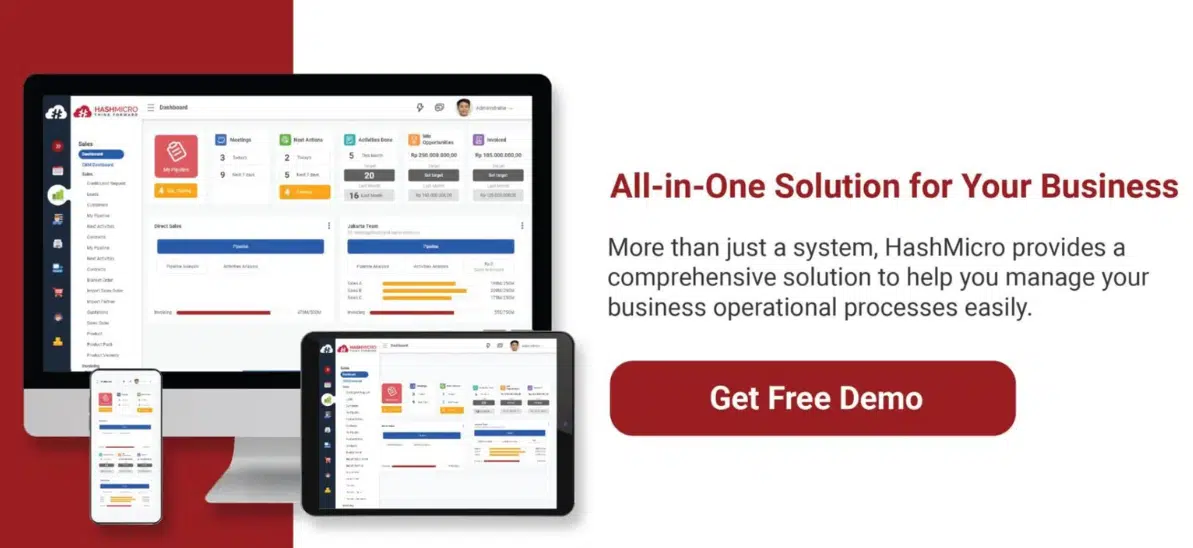 Table of Content
Related article: 10 Things to Consider Before ERP Implementation
1. Reduce administration cost
Generally, it takes 5 minutes to manually manage a visitor. If you have 3 front desks, with 100 monthly visitors, this is how much it costs. Imagine how much it costs you for one building. That doesn't count the cost of the stationary. A Visitor Software speeds up the process of registering the visitors automatically. It can take up 1 minute only. It includes the data input, handing the visitor badges, signing online documents, and other necessary processes. Moreover, the data is stored in a central database. So, whenever a visitor return, the receptionist doesn't have to input the data all over again. It effectively saves your money.
You can also perform HR tasks and employee administration automatically with the HRM System from HashMicro.
2. Prevents incidents
The main aim of setting up this software is preventing incidents from happening. The system monitors who come to your office and their intentions. Although there was no incident at your site so far, it does not mean it will not happen. In other places, there are often disturbances from unidentified visitors without badges. Take an example there's a dispute between you and your clients for some reason. They can easily slide into your building and make a scene because there is no proper tracking of visitors. You don't want anything to happen to your employees, do you? By investing in this system, you have taken the right step to prevent the incidents.
3. Provides extra security
Every company is responsible for protecting the staff and visitors. With the check-in and check-out records, the security staff can easily find visitors to escort them out when the building is about to close. If the visitors plan to do something bad – hiding somewhere, waiting for everyone to leave, and stealing stuff – the security staff can stop their wicked plan. If someone is ill and faints somewhere inside your building, those in charge can identify the place and give the help needed. The system also helps the evacuation process when there is a disaster because you have cloud data of visitors that come to your place.
4. Protects from lawsuit
In some cases, visiting a working site can be dangerous, for example, the construction site. Construction software can increase the efficiency of construction project, inventory, employee, and client management in a centralized system. Although your visitors know the hazard their facing, the company is still responsible for ensuring their safety. From a business perspective, it's better for companies to avoid a lawsuit or insurance claims. Visitor software can help the company by creating a digital acknowledgment notice. The visitor should confirm that she accepts all terms and conditions while visiting your site. If the visitors behave recklessly and caused an injury, you already have the digital proof that you have complied with safety regulations.
5. Giving professional nuance
Visitor software can help companies to build a good brand reputation. The system provides the ambience of security and professionalism among employees and visitors. Visitors may find your company is very organized and taking every visitor an account. It gives them a good impression. These are the benefits of Visitor Software for your company. Its importance is more than clear. Not implementing this system is only going to costs the companies expenditure for nothing. Get free demo now!