According to a McKinsey survey in 2015, only 25% of senior executive leaders can collaborate in their workplace. Meanwhile, only 5% of staff employees can collaborate successfully. The survey results show that collaboration is difficult. Collaboration is essential to your team's success. We discuss how to cooperate well, how to recognize when you are not collaborating effectively, and how to increase workplace cooperation. 
However, what are the true advantages of team collaboration at work? Collaboration enhances your team's ability to work together and solve problems. This results in greater creativity, efficiency, success, and communication. Even though you are working from home, you still need team collaboration.
By listening to and learning from one another, you may assist one another in achieving your objectives. Collaboration requires effort and commitment, but the rewards to your team are well worth it. therefore, many companies use ERP software to streamline business processes.  
Table of Contents
What is the Meaning of Collaboration?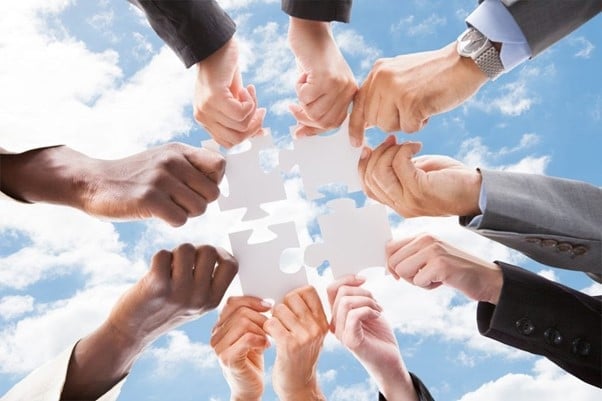 Collaboration in the workplace refers to a group of individuals pooling their resources and talents to accomplish a shared objective. Collaborative work, rather than solo work, increases productivity and provides workers with a feeling of purpose inside the company.
Additionally, it becomes simpler to generate ideas for resolving an existing issue or completing the assigned task on time. Employees with varying views, ideas, and skills may collaborate to develop novel solutions, allowing companies to resolve issues more quickly and efficiently.
This activity is very important because each team member has unique abilities, knowledge, and ability. When all individuals cooperate, they are able to use their combined expertise, knowledge, and abilities to accomplish the common objective.
Not to add, collaboration at work speeds up project delivery by allowing workers to use their skills and experience to accomplish tasks and improve employee quality. For that, a competency management system can help to improve your employee performance to meet the standards desired by the company.
Doing collaboration in your day-to-day business also can add value by significantly reducing costs and workflow. Of course, this is very beneficial for the management and the human resources team. 
5 Tips to Create Effective Collaboration in the Workplace
Many people still find it difficult to collaborate with their team. This is because not everyone has a natural instinct to work with other people. However, this collaboration ability can develop or improve gradually. The following are some things you can do to create effective collaboration in the workplace:
1. Make sure all team members are involved
This is the initial step in team collaboration at work. This is done to ensure that all team members are really engaged in and contributing to each collaborative work process. Starting with initial planning, job division, and ultimate execution of work in line with each member's competence.
Allow team members to feel informed and included. This, of course, will have an effect on the timetable established; it may conflict with the deadlines and objectives established.
2. Setting clear goals for the collaboration
According to the Workboard survey, 69% of high-performing businesses state that their main approach for developing the best-performing teams is to convey company objectives effectively. Thus, communication is a necessary component of cooperation. Discuss anything relevant to this cooperation freely during debates or brainstorming sessions.
Before you collaborate, you and your team need to have a good understanding of the purpose of this activity. Once you've established clear objectives, the first objectives set by you and your team should agree upon immediately.
Read more: Partnerships: Definitions and Tips for Finding the Right Business Partner
3. Prepare a place for brainstorming
If you want collaboration to work effectively and generate positive outcomes, you must avoid becoming self-centered in your decision-making. Because collaboration is a collaborative effort, you must make choices in cooperation with your team.
Provide a forum and space for your colleagues to voice their views. Spend time discussing the outcomes of your cooperation with one another. Thus, you and your colleagues may get acquainted with one another's perspectives. This is also a chance to express your gratitude to the staff.
4. Keep an Open Mind
Maintaining an open mind is not limited to encouraging everyone on the team to generate novel ideas. There is something more critical, which is listening to the views of others. Create a collaborative work atmosphere in which workers are receptive to sharing and listening to the ideas, recommendations, critiques, and concerns of one another. This results in faster problem-solving, improved collaboration, more trust, and, most significantly, increased team productivity.
5. Use supporting tools as needed
This approach may be adjusted to the collaboration's specific requirements. Typically, the team agrees to utilize or make use of commonly accessible tools in the form of systems, software, or digital apps.
This digital tool may then be utilized to facilitate more productive and efficient cooperation at work. Several of these include cloud-based enterprise resource planning (ERP) systems, accounting software, inventory management, and marketing automation.
Conclusion
With this information, you will be able to start this activity with your colleagues or business partners instantly. Develop your cooperation abilities to the point where they serve as the basis for optimizing positive outcomes. If this cooperation is successful, the work atmosphere created plays a significant role in determining the project's success. 
Not only that but cooperation, as previously mentioned, is very advantageous for the business or human resources department. As a recruiter, you may use services such as HashMicro's HR Software to make evaluating employee performance easier. Because you may do this evaluation based on each employee's key performance indicators. Which is also critical for the success of cooperation and team competency in your organization.