It's a new year, which means it's time to make some new resolutions. How has this year been for you? Are any new initiatives on the horizon for the upcoming year? Or are you having difficulty putting together a schedule of activities? The primary response to this question is that we like these hobbies, but they also provide an opportunity for us to earn money. Applying the Ikigai principle is one of the life concepts that might aid in determining these activities. Ikigai is a basic life principle that can assist us in determining the jobs that we must perform in order to survive.
To maintain a healthy balance of career and life activities, we must first understand Ikigai from within. Thus, if we are already familiar with Ikigai, we may readily deduce the meaning of life. Ikigai is a term that encapsulates a number of concepts. Furthermore, how is Ikigai determined? To learn more about this concept, please see the following article.
If you are a business owner and want to maximize the administrative management of the company's employees, you can use HRM System from HashMicro. With this system, you can perform HR and employee administration tasks automatically. In addition, you can also calculate salaries, manage attendance lists, and other activities through the most complete payroll software and applications for enterprises in Singapore.
Table of Contents
What is Ikigai?
Ikigai is a Japanese noun that combines the words "iki" and "gai" to indicate "life and value." In other terms, Ikigai is a guiding principle or value that guides an individual's life in order to accomplish his or her life goals. Thus, individuals who possess and comprehend the concept of Ikigai will have an easier time navigating their daily lives, as they will realize the significance and benefits of the routines they follow.
Ikigai not only assists us in accomplishing life goals but also in being productive. If we understand the notion of Ikigai, we will be able to determine the routines necessary to accomplish our life goals. As a result, we have a strong work ethic and an appreciation for important life values.
Structure in the Principle of Ikigai
Ikigai features four Venn diagram slices, which correspond to the Ikigai concept's structure. These slivers of life can assist us in locating Ikigai. These slices include the activities we enjoy, the activities we excel at, the activities we excel at, the activities that help others, and the activities that make us remunerative. Ikigai considers the four slices to be components or phases. Here's the explanation:
1. Passion
The first slice in the Venn Ikigai diagram corresponds to the relationship between what we enjoy and what we excel at. Because these are jobs that we enjoy and are excellent at, we are already familiar with the ins and outs of this activity and will be more satisfied with our performance during this period. Additionally, we will have increased enjoyment and a better understanding of how to resolve issues that arise. However, we do not receive a proportionate reward during this phase, and the crowd advantages feel diminished as well.
2. Vacation
Ikigai's next slice represents the schism between what we deserve to pay and what the world requires now. During this phase, we will perform a task that we dislike, but the upside is that this task is critical for the planet at the moment. As a result, we are compensated fairly well.
3. Mission
The third slice is a compromise between what we enjoy and what is useful. We will work on projects that interest us while also benefiting others around us throughout this phase. However, we are not compensated at this period because we are performing this task just to assist and because we enjoy it. Volunteering to assist those in need is one such example.
4. Profession
The final slice represents the schism between what we excel at and what pays us. We genuinely dislike this job during this time, but we must fund to meet daily expenses, and hence are compelled to perform it. Additionally, the rewards of our effort are quite limited.
Ikigai, which is a slice of the four slices above, is when one is good at music, especially on the piano. This indicates that you have developed an interest in music. Additionally, to earn money as a professional piano player, you must study even harder. And, for the pleasure of those in your immediate vicinity, you can do so by crafting songs with original piano tunes to delight the crowd. If you engage in these actions, it indicates that you have engaged in Ikigai-related activities. Additionally, the activities will have a greater sense of purpose.
The Benefits of the Ikigai Concept in Work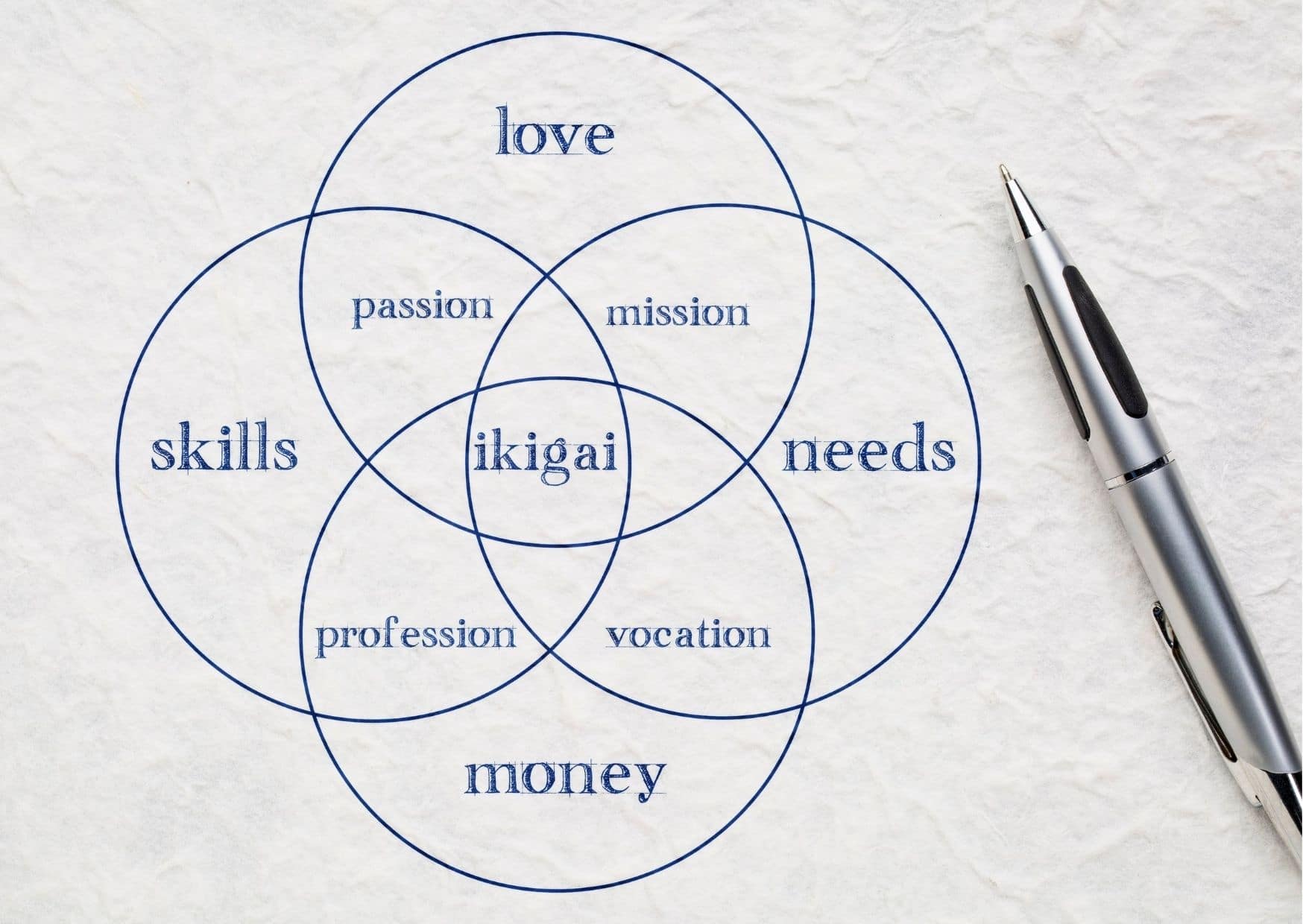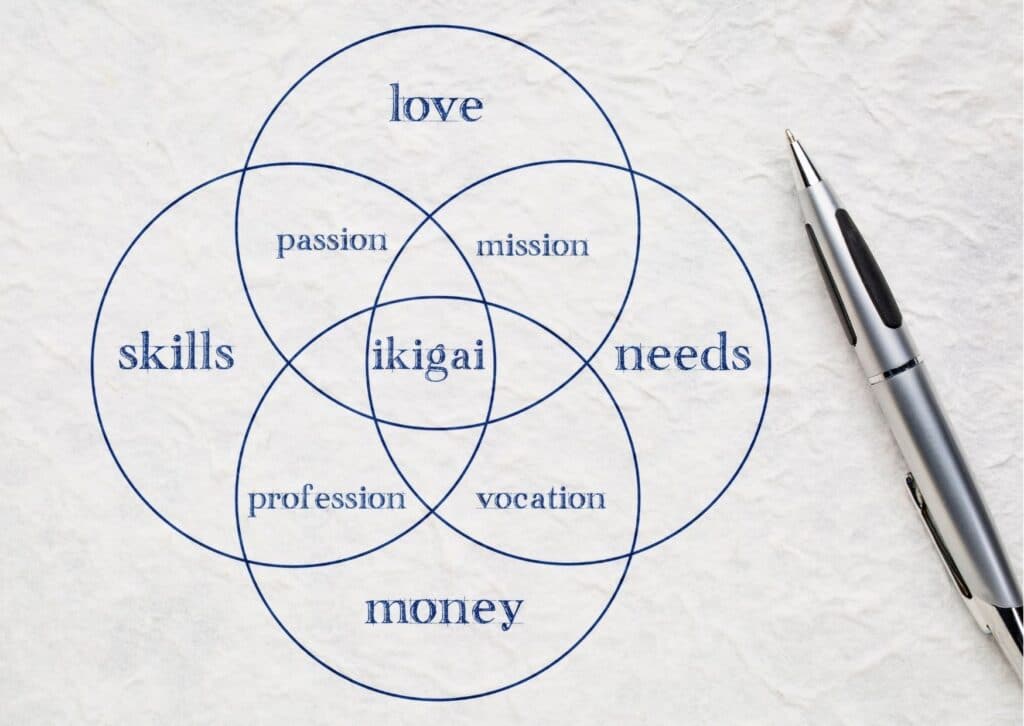 When we apply the ikagai's four components, we must revisit the slices of the previous four slices in the form of "Ikigai." As a result, this can assist us in finding meaning in our lives and comprehending the significance of the work we undertake. The following is a breakdown of the benefits of the Ikigai concept in the work:
1. Increase work motivation
When we are aware of our life's purpose, we have a greater capacity to fight for these objectives. Because we believe that by implementing the Ikigai idea, our activities will yield results in the future. According to Japanese philosophy, people who have a feeling of purpose in life live longer, produce more, and are happier.
Also read: Work Motivation – Things that Have a Big Impact On Employee Productiveness
2. Making it easier to take action
We will make a decision to do something more readily if we already know what our lives are for. Additionally, we will comprehend the components of our lives' priorities, which will aid in decision-making. Additionally, the likelihood of encountering an error is low.
The same holds true for the business. Additionally, businesses require accurate and timely decision-making. Thus, integrated technologies are required to assist in the presentation of data in real-time, allowing for fast decision-making.
One of the technologies that must be considered by current company owners is ERP System. This business software allows you to automate your entire business process from upstream to downstream. These systems help minimize risk and human error, save time and operational costs, improve accuracy, improve data security, and much more. The real-time data generated by these systems can help you make wiser decisions for the future of your business.
3. Faster in work
We will love our work better if it is based on our passions and interests. As a result, we're able to do the project efficiently. Having a purpose in life entails developing both short- and long-term goals, particularly in the workplace. A well-structured plan will assist us in completing the task swiftly and accurately.
4. Creating a good work ethic
According to the Cambridge dictionary, Ethos refers to a group's characteristic way of life. By embracing the Ikigai principle, we can add greater purpose to our lives by recognizing that the work we perform can benefit a large number of others. As a result, we're going to do everything we can.
How to Apply the Ikigai Concept
Ikigai is applicable in both our personal and professional lives. To implement the notion of Ikigai, the first thing we must do is determine the purpose or meaning of our lives. Then, begin with something easy that we enjoy. Although straightforward, if repeated frequently, it will gradually bring us to our destination. Additionally, it can start by interacting with people who have similar interests and hobbies to you. To be considered for future action, we can share our stories and experiences with individuals who share our interests.
Conclusion
Ikigai is a critical notion since it enables us to live our lives in accordance with our interests, skills, and benefits, while still earning money. Ikigai also assists us in defining the meaning of life, allowing us to make more informed decisions and perform tasks more quickly.
Therefore, in order for employee performance to be maximized, companies need to pay attention to the needs of employees in order to run their jobs happily and meaningfully. The company can provide various facilities that support employee performance in order to increase the company's profitability. Companies can implement a Talent Management System by HashMicro that can track employee progress, provide feedback, manage employee levels, retain the best employees, and provide a variety of training that can support employees' careers. Immediately improve the quality of your employees with HashMicro, immediately schedule a free demo now!