Generally, there are only two ways that are commonly used to implement a good ERP system in a company. One is by using the conventional method, which is an on-premise system, and the second is by using a cloud server to store all of your data. Both on-premise and integrated cloud ERP systems do have their advantages and disadvantages. The on-premise system offers reliability. But, the downside of the on-premise system is that it is sitting more on the expensive side in comparison to the cloud systems. The cloud-based ERP system also comes with an easier implementation that makes it suitable for various business types. This cloud is great for small businesses, but still, many won't go down this route because of the safety issue.
Download Now: HashMicro ERP Software Pricing Scheme Calculation
One of the advantages of ERP software is that it can handle multiple companies with varying operational and organizational structures. Those are the reasons why many companies are reluctant to choose the best ERP system for their business. Very few are aware that there is a better option, which is a hybrid ERP system. In this article, we will learn more about the leading hybrid ERP systems and their benefits for your business. Information related to the costs you will incur, you can download in the ERP software pricing scheme from HashMicro.
Table Of Content
Hybrid ERP System Meaning
The definition of a hybrid ERP system is a combination of both on-premise and cloud ERP systems. As a user, you will get the best of both worlds by using it. Not only is it cheaper in terms of price, but this system is also able to provide the reliability of on-premise systems.
Download Now: HashMicro ERP Software Pricing Scheme Calculation
Due to the bimodal combination of both on-premise ERP systems and cloud-based ERP systems, hybrid ERP is a tier-two model. Hybrid ERP can integrate several software systems easily and quickly such as CRM, sales, and accounting. Things that are difficult to do by on-premise systems.
Related article: What is ERP and Why is It Important for Businesses?
Benefits of Hybrid ERP System
Here are three of them: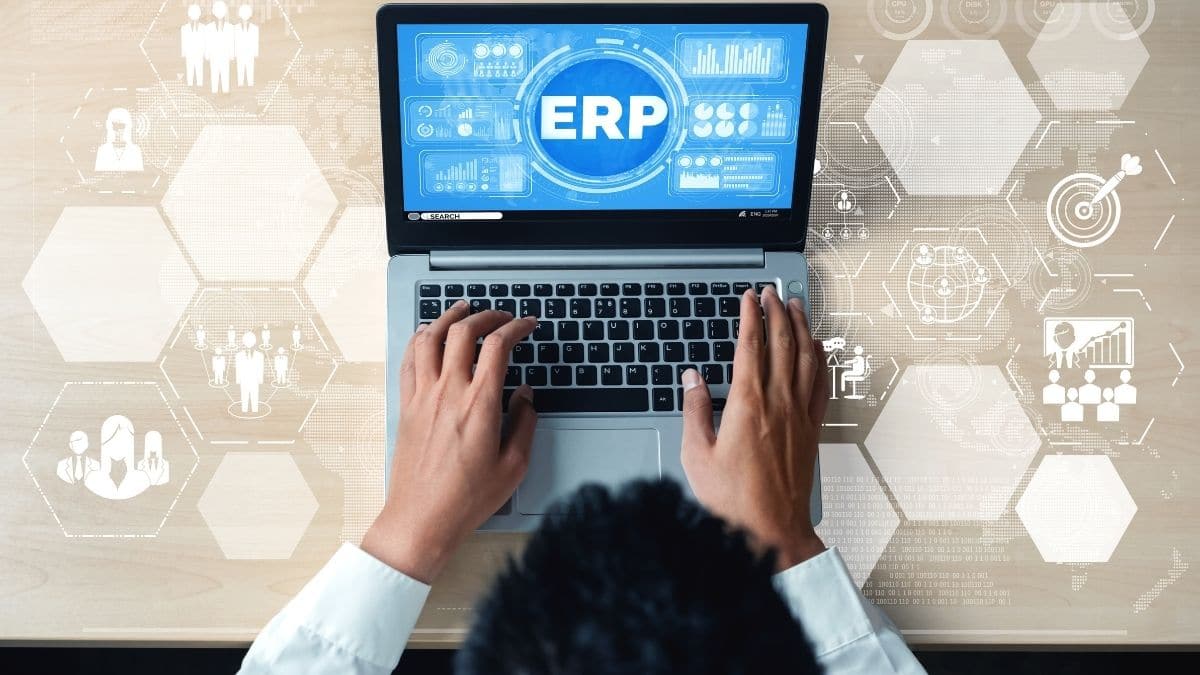 Implementation costs
From a cost aspect, hybrid ERP is priced between the cloud system and the on-premise system. Cheaper than on-premise systems that require you to build infrastructure beforehand, such as servers.
Download now: HashMicro ERP Software Pricing Scheme Calculation
In addition to infrastructure costs, you also have to pay additional costs for training your staff on how to use the system. Not to mention you have to hire an IT person or call the software developer when a problem occurs.
Hybrid ERP liberates you from these costs. Thus the implementation costs and maintenance can be reduced.
Better flexibility with hybrid ERP system
For industries such as digital media or professional services, hybrid ERP is the best choice compared to on-premise systems. Because an on-premise system is more suitable for industries that utilize a lot of assets such as manufacturing or mining.
Not only that, hybrid ERP allows your business to stay operating even when your system is not connected to the internet. Whenever you experience connection problems, you would still be able to use an on-premise system ERP. Then, when the system is reconnected to the internet, the data will automatically be synchronized with the cloud server.
Easier upgrades
If your company has previously used an on-premise system and wants to add cloud features, choosing a hybrid system is the best path. The characteristics of hybrid systems make it easy for you to integrate new features.
You don't need to spend a lot of money on building a new server. You can integrate those cloud features with a hybrid system. Besides being cheap, establishing a cloud ERP system takes a shorter time in comparison to building a new on-premise system.
Besides, the hybrid system also makes it easy for your employees who want to access critical ERP functions on the go. Synchronization between on-premise systems and cloud systems allows your employees to gather info anytime, anywhere.
Related article: How to Choose the Best ERP System for Your Organization?
Conclusion
Apart from on-premise and cloud ERP systems, hybrid systems are an interesting alternative that you could consider implementing. After reading the explanation for each of the two systems, and even understanding the mix of both, you know that there are options you could choose. Regardless of the varieties, a good ERP systems have always had the purpose to ease your business activities. HashMicro provides the most complete ERP software to help you automate various aspects of your business. With the suitability for various types of companies, HashMicro would help you make more accurate decisions with the support of the most advanced business management software.