As one of the leading countries in the industry sector, Singapore frequently becomes a role model for other countries. The pace of its growing industries is one of many factors that Singapore has leading industry sectors. Modern tools and digitalization in most of its industries also give a significant impact on its growing industries. ERP software becomes an essential tool for digitalizing most industries in Singapore. Using ERP software from HashMicro makes it easy to digitize various industries in Singapore.
A rapid change post-pandemic still affecting daily activity all around the world. It also affects trends and markets of various industries worldwide, including Singapore. The industry sector that growing incredibly fast is easily changes after several years. Therefore, to get a proper job in the long life industries, we must know the industries that still growing fast in long run.
Table of Content
What are the Growing Industries?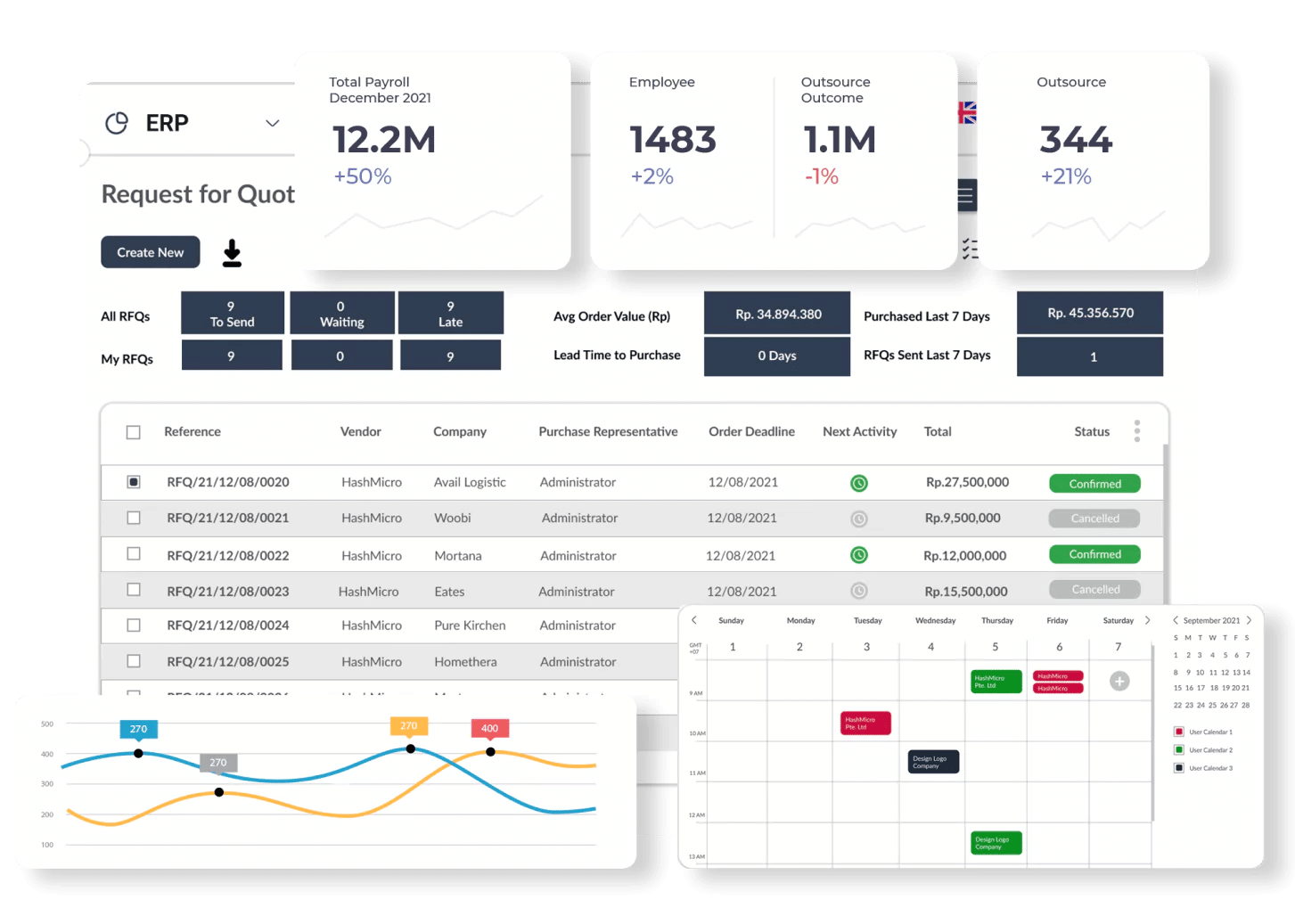 There are always recessions and depressions in the world. Because of this, the growth of many industries is slowing down. Some industries, fortunately, have been able to consistently bring in more money. Even though the pandemic is hurting the economy, these industries are doing better because technology and the help of ERP software keep getting better. Based on how they are going, these sectors are becoming the ones that are growing the fastest. 
The job market is changing too quickly for economies that move slowly. Some industries and jobs that were popular a few years ago are no longer available. So, as the world changes, people should ensure they have the right skills and keep them up to date. Joining a company today means figuring out if the industry will still be around in a few years. So, keeping up with the industries that are growing the fastest and will need workers badly in the future is a great way to stay valuable and productive. 
Related article: What is Computer-Integrated Manufacturing (CIM)? 
Fastest Growing Industries
When deciding on a career path, one of the most important things to consider is which industries are growing the fastest in their country and worldwide. If someone works in one of these fields, he/she could get a high-paying job that lets him/her enjoy life's comforts and have a high standard of living. Because of this, there is a growing need for experts in different fields. And by 2022, the top 10 industries that are growing the fastest will have grown significantly.
Banking and finance
Businesses have been able to keep going even when operations stopped during a crisis because of banking and financial literacy. Singapore's financial services industry has grown steadily because the government is stable and the country is friendly to business. But even though the economy was bad, the sector grew by an average of 4.7% in 2020. There are probably more than 5,200 job openings in the financial industry, and 96% of them are for positions that require PMET skills, such as risk management, compliance, relationship management, and financial analysis.
Software and technology
Software and IT have become important areas that drive hiring demand in all other fields. Recent information shows that the need for software developers has grown by 25% since the pandemic. Because as technology grows and changes, so will the need for security software and new kinds of software. Most businesses and companies today have a presence online that needs to be protected and secured. So, they are taking steps to protect their business from both outside and inside threats. 
Related article: Manufacturing Software: Definition & Benefits for Your Business 
Healthcare 
Singapore is known for being a hub for health care in the area. Patients from Malaysia, Indonesia, Brunei, the Philippines, and Thailand, as well as from the Asia-Pacific region, the United States, and Europe, go to its hospitals and nursing departments and facilities. Given the global pandemic, it is not surprising that the healthcare industry is growing very quickly. With the new community hospitals and polyclinics, the public health industry as a whole is sure to grow. Before the pandemic, gerontology and eldercare were the fastest-growing areas of healthcare. A study showed that 40.1% of the country's population would be 60 or older by 2050. In 2022, gerontology and eldercare will still be a concern, so they will need great healthcare management systems and staff.
Manufacturing
Manufacturing is Singapore's biggest business, and it makes up 20–25% of the country's GDP each year. Chemicals, logistics, electronics, biomedical sciences, and transport engineering are all important parts of the manufacturing industry. Even though COVID-19 waves keep coming back, Singapore's ability to make things has not been too much affected. So, Q3 of 2020 shows that manufacturing grew by 10% each year, which helped the electronics and biomedical industries.
Artificial intelligence
AI is one of the industries with the fastest growth, in part because companies had to lay off workers when the pandemic hit. Because of this, companies had to find ways to keep running even though they had fewer workers. AI is one of the technologies that will shape the future of a number of fields as computing gets better. Because of this, both governments and businesses are putting a lot of money into AI technology. Singapore is one of the countries that has taken advantage as part of its plan to become more digital. The government has been investing in technology to get people to use AI, which has led the private sector to do the same. 

Data science and analytics
Data science and analyst have been called the sexiest jobs of the 21st century. This is because businesses are becoming more focused on data. IBM said that by 2020, over 700,000 new data developers, scientists, and engineers would be hired each year. Also, the amount of digital data that is used and processed daily from emails, subscriptions, and Google searches is growing. And all of those data need to be analyzed and managed. 
Biomedical and biotechnology
Companies have kept coming up with new ways to help patients, even with the COVID-19 pandemic and their complicated needs. Because of this, the medical devices market will bring in a lot of money and multiply in 2021. In both medical technology and pharmaceuticals, biomedical manufacturing in Singapore hired 24,384 people. This added close to $20bn to the country's GDP in 2019. This trend is likely to continue in 2022 as the number of healthcare facilities, spending on healthcare, the number of older people, and advances in technology all rise.
Mental health
After the pandemic, it has not been easy for everyone to get used to the new way things are. Even the most strong-willed people can only handle so many sudden changes and times of being alone before they break and need to talk to a professional. They need help from people who know about mental health to help them get through this. According to the mental health outlook, the number of jobs for mental health specialists has grown by 24% by 2020 and is expected to keep growing.
Tourism and hospitality
The tourism and hospitality business was hit hard by the pandemic. With revenue on the decline, overall industry growth dropped through 2020 and 2021. But as vaccination programs continue, officials in Singapore and other places have started reopening economies. ADROIT market research predicts that the luxury travel industry will grow by more than 7% by the first months of 2026, reaching close to $500 billion over the next five years. This will cause the sector of tourism and hospitality industries to grow.
Digital and internet marketing
A lot of people buy things online. It is safer than making purchases in person. So, websites and businesses need help from business software to make sure that web-based makes sales. Also, digital and internet marketing will become more focused on technology, and it will be essential to understand big data. Because of this, there will be a greater need for experts. Especially experts in data-driven designs, digital marketing strategies, and the collection and analysis of data. If someone has experience in digital marketing, you can take advantage of the opportunities in this services industry, which is expected to hire 33% more people after the pandemic.
Conclusion
By knowing the industry that has developed to date, we can determine a career with more well prepared. Career selection is very important because it will greatly affect future life. Once you know how different industries are developing, it is important to learn related skills and expertise. So that we have the necessary expertise and can keep up with industry growth.
Growing industries would still continue expanding from time to time. Especially when the new normal started to begin and daily activities came back like before. The pandemic wave gave new insights into all sector industries and digitalization is one of them. ERP software become one of the solutions to help boost the performance of companies from various industries.