Wholesalers are businesses that sell products to retailers, suppliers, industrial companies, government agencies, private institutions, and so on. Products will often move from one place to another until they reach the hands of consumers. Untracked stock produces damaged items and losses for wholesale business owners. Many people who own wholesale businesses still use manual ways to run their businesses. Hash Trading and Distribution system can help you digitize your business operations. Our wholesale/distribution system is helpful because it lets you do a full and accurate analysis of how your sales and purchases went.
We have to address the problems in the wholesale business immediately because the problem does not get bigger until large losses occur. With our wholesale trading distribution system, it is easy to keep track of what goods are coming in and going out so that they are properly recorded. You can also make good sales predictions based on your sales reports. We also can use this application for financial management. Downloading the pricing scheme from the Hash Trading Distribution system will give you more information.
In this article, we will discuss further the benefits that you can feel by using Hash Trading & Distribution software, as well as the modules contained in this software.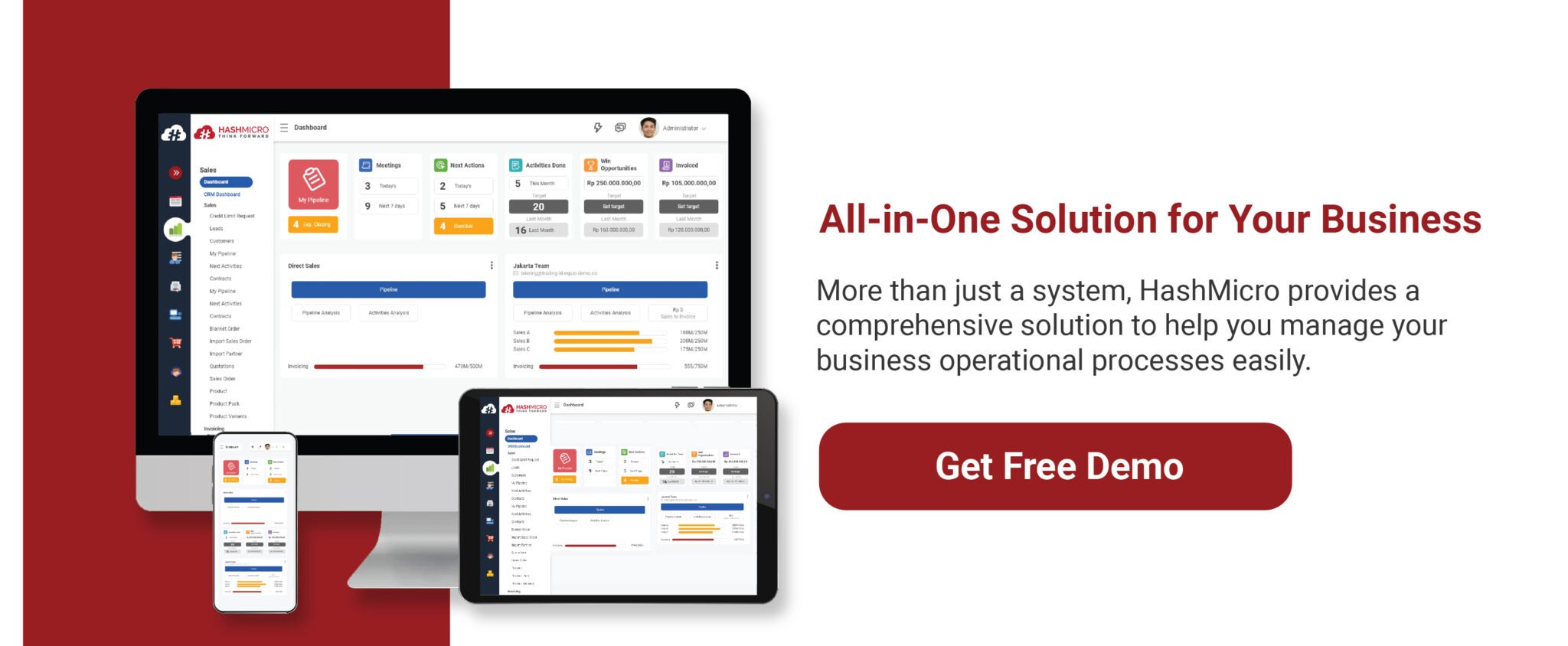 The Reason You Should Use Hash Trading and Distribution System
HashMicro was started in 2015 as a provider of ERP software for many different types of businesses. Its clients come from many different types of businesses. HashMicro started in Singapore and now has a branch in Indonesia. Having the vision to play a role in the progress of the industries under the auspices, HashMicro currently has more than 250 clients, among which there are established companies. One of the many products HashMicro have is software for trading and distribution. In the wholesale business, there is often inefficiency until losses happen. Here are some of the ways that HashMicro's wholesale software can make your work easier:
1. Customization and configuration
HashMicro offers products that we can set up to fit the needs of your business because it understands that the needs of each industry are different. Each business has a different mission and motto, so the way to run each business is also different. Besides that, different organizational structures and divisional arrangements mean that the circumstances of each company are different. We can customize HashMicro products to your company's needs. A customizable system is critical for the wholesale business, which has different needs and wants to reach its goals.
2. Innovative development
As time goes on, so does technology, which will change how businesses work. Businesses that can adapt to the times will do better because they can meet changing customer needs. Because of this, HashMicro will keep coming up with new ways to help clients who want to use different software. The increasing number of business types that are available is making HashMicro try to improve its products and solutions so that every industry can work easier. 
3. Best business practices
HashMicro's strength as a system provider is that they use the best business practices to make sure the system works well. So you don't have to worry about how the results of discussions about the software we will use because we will do a practice. All products will go smoothly and in line with agreements that were made before. HashMicro will do all of this so that customers are satisfied with the products HashMicro offers and there are no mistakes when the system is put into place because good business practices have been followed.
4. Professional experts
To understand what each client needs, you need an expert who knows about it. HashMicro has experts who can understand what your business needs. This is especially true since HashMicro has more experience. HashMicro's experts come from both business and technology fields, so they can help you with your business model as well as with technology. You will get feedback on the idea you give, and that feedback will always be open. So, HashMicro will try to figure out all of your needs until it finds a middle ground that works for everyone.
The Benefits You Will Get by Using Hash Trading and Distribution System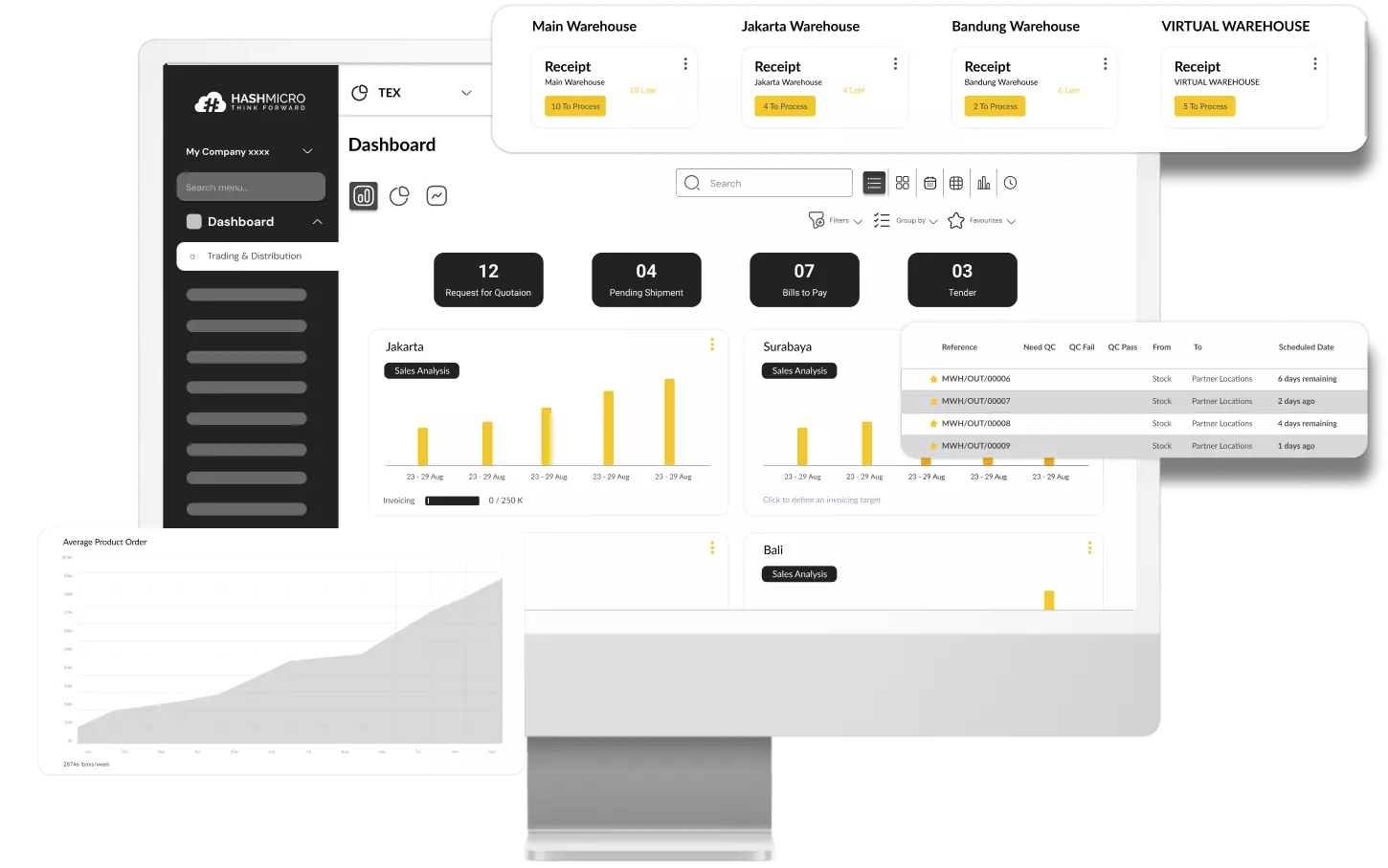 Trading is a very competitive field because it is based on so many different industries. In the wholesale business, having goods on hand that don't match what we expect is a common problem. Because of this, you might run into problems that make it hard for you to make sales in your trading business. Our wholesaler software will make it easy for you to improve your wholesale business. When you use our system, you can get the following benefits:
1. Real-time report
Reports are very important for all kinds of businesses. With this report, you can track and keep an eye on how sales go and how much money you make. Businesses that sell large quantities of goods and need to keep track of their stock need an easy-to-find report. With real-time reports, you can easily and quickly keep track of everything so that any actions that need to be taken can be done right away. Reports are also used to make your business decisions. The system offers accurate reports that can be checked at any time and from anywhere.
2. Stock monitoring
Before it gets to you, the product goes from the manufacturer to the wholesaler. So, it's important to keep an eye on how the stock of goods moves so we can predict the sales we will have in the future. Also, the stock of goods that we have to keep an eye on the product we will send to a location to make sure they get to customers and other branches safely. The trading system from HashMicro will help you keep track of your goods so you don't have to worry about their safety. Using this software, you can also keep track of your stock in real-time.
3. Stock optimization
One of the most important things a business needs is data. Stock data is important for wholesale businesses because it helps them figure out what their next sale will be. With the Hash Trading and Distribution system, you can automatically look at stock forecasts over a certain amount of time. This makes the data more accurate. With this prediction, it will be easier to keep track of what needs we have to do to make sure there is enough stock, and costs won't be too high or too low. Also, this benefit isn't just felt in one branch; it's felt in other branches as well.
4. Advance analyst
Analysis of sales is something that wholesale business owners have to do. We can use the results of this business analysis as a guide for future evaluations and to make sales better. Hash Trading and Distribution gives a full analysis of sales results, so you can find out exactly which sales channels are the most effective and play an important role in selling products. You can look at how each branch is doing in terms of sales and take action right away.
The Module in Hash Trading and Distribution System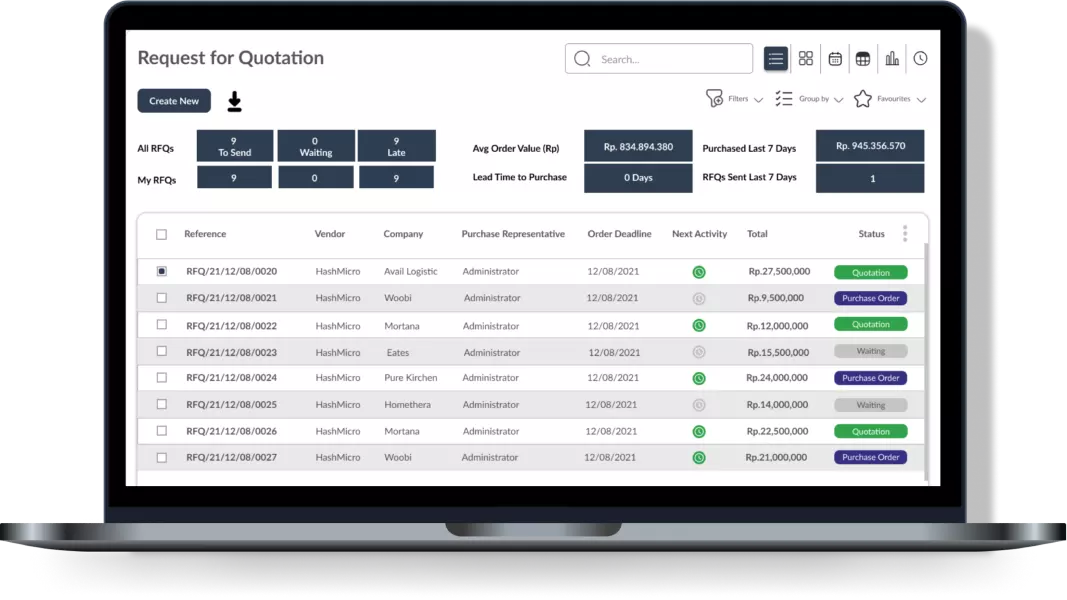 1. CRM
Consumer data is a key part of figuring out how to sell something. Hash Trading and Distribution has a CRM that makes it easy and accurate to keep track of thousands of customer records. Also, with this feature, you can use sales applications to find the best sales channels and figure out which marketing efforts work best. We can also use this feature to analyze potential customers so that we can make sales more efficiently.
2. Accounting
Making invoices and doing wholesale go hand in hand. If we buy or sell something, we need invoices as proof also for a report. Each transaction process has its own invoice, so if we still do it by hand, problems can happen. With Hash Trading & Distribution, it only takes a few clicks to make different kinds of invoices that meet company standards or are based on templates. With this feature, you can also keep track of cash flow well, which makes it easier to keep an eye on your finances.
3. Procurement
We need to write down every purchase carefully so that the costs and products can be correct. Hash Trading and Distribution system have a feature called "procurement," which automates the process of ordering goods and organizes every purchase request with a "layered approval matrix" to cut down on waste. With this feature, you can also keep track of what goods are coming into and going out of the warehouse. Another benefit of this system is this will let you know when we will send or receive an order. This system can also make it easier to apply to buy something from each branch.
4. Inventory
Another important thing is to monitor the items in your inventory. Inventory items are closely tied to how long the goods will last, so if they aren't managed well, the goods will pile up and cause damage because so many of them are broken. Through Hash Trading and Distribution Software, you'll be able to see everything about each item and automatically track which ones move slowly and which ones move quickly. With this software, you can also keep track of your inventory by getting automatic alerts when stocks start to run low. This lets you make accurate estimates of your stock.
5. Point of sales
Hash Trading & Distribution software's point-of-sale feature can help you use the information you've collected about your customers to make loyalty programs that match their preferences and increase sales and customer retention. The second benefit of this feature is that customers and employees can quickly look for items they need because stock lists and updates happen in real-time. We also can use this feature to look at the sales of each branch. This way, all sales and purchases from each branch can be tied together. Based on how your wholesale branch is doing, we will get an accurate report.
6. HRM
The health and well-being of your employees is an important thing to think about if you want to keep selling your wholesale business. With the Hash Trading and Distribution HRM feature, you can make it easier to hire people, track KPIs, and handle HRD tasks like managing salaries, attendance, overtime, and more. With this software, you don't have to worry about staffing your branches, since the employee database is always up-to-date and you can get to it at any time. This software monitors employee contracts and notifies you when they're ready to expire.
Conclusion

One business with a lot of potentials is the wholesale business because more and more people need things. Before the goods are sold to the supplier, the wholesale owner will buy them directly from the producer. In wholesale, getting goods in and out of stock is necessary since it affects sales and purchases. The amount of goods that need to be managed is also not small, so they need to be managed well. Purchase and sell outcomes are more likely to be incorrect if done by hand due to the number of branches.
Use Hash Trading and Distribution software from HashMicro to run your wholesale business. This software has a full module, which means it can help you run your business from different software. It's important to digitize your operational activities, especially if you already have a lot of branches and customers. You can try HashMicro's Hash Trading and Distribution software free demo to learn more about it.