Enterprise resource planning (ERP) software has become an essential part of the manufacturing industry. It is nowadays focused on technological investments. ERP Manufacturing software is also known as MRP, is the special ERP for manufacturing. In fact, this software could help scale up your business immensely. In addition, manufacturing ERP systems can help solve some challenges. It also benefits manufacturers who seek to decrease costs, manage organization growth, streamline cumbersome processes, as well as achieve a competitive advantage.
If you are looking for ERP software that integrates all areas of the manufacturing business, you can choose Hashmicro manufacturing software. HashMicro Manufacturing ERP Systems automates all your daily manufacturing processes and generates clear insights out of the data. ERP Manufacturing software has benefits that resonate, one of which is providing advanced features that allow users to perform quality control. Download the HashMicro ERP manufacturing software price scheme to know your costs in using this software.
Table of Content
Benefits of Manufacturing ERP System
Here are the benefits of manufacturing an ERP System for your business:
1. Automate Time-Consuming Tasks
Manufacturing ERP software helps you generate all the paperwork as well as doing the number of repetitive tasks automatically.
2. Decrease paperwork
This ERP module enables storing records digitally. Moreover, it allows tracing records easily and can be accessed from anywhere and at any time.
3. Lease Human Error
The manufacturing ERP software helps you to track and trace in a much more efficient manner. Not only that, this benefit reduces the rate of errors very significantly.
4. Scalable Business Infrastructure
This ERP module can automate specific tasks and can help reduce human resources significantly.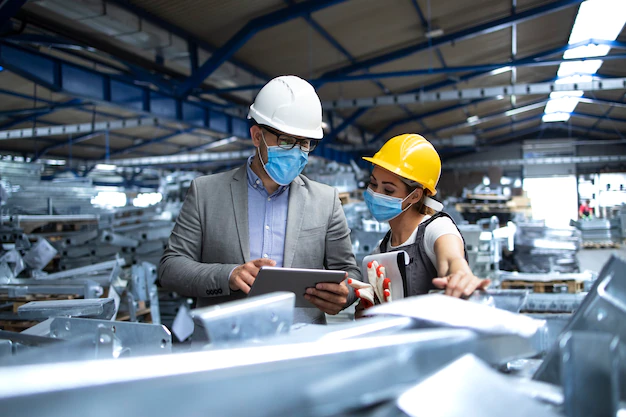 5. A Large Amount of Savings
This benefit is a once-in-a-lifetime investment as it lessens the staffing required before, and most importantly, this ERP software is claimable with government grants.
Also read: Mass Production Strategy to Increase Productivity of Manufacturing Business
Why do we have to use the manufacturing ERP System?
With the manufacturer's growth, the manufacturing operations increase and become more and more complex. ERP Manufacturing System enables automated business operations; provides highly accurate and also real-time information. In addition, ERP systems are able to automate and integrate every business operation. In addition, companies can customize this software so that it is suitable for use in all industries.
The ERP system helps in navigating complex processes, prevents data re-entry, as well as improves various functions. For example, you can improve production, track material usage, manufacturing and work order completion, and deliver and plan the resources accordingly.
The Manufacturing ERP Systems allows tracking changes in the level of stock and keeps track of purchases seamlessly through the Inventory System. Moreover, the Manufacturing ERP software also uses CRM to efficiently manage customer details, purchase histories, account statements, and billings. In addition, manufacturing ERP software has a unique feature of HR management. So, the feature will help in managing employee activities, expense claims, payrolls, and also contracts efficiently. Another feature in the Manufacturing ERP Software is the Accounting System which will automatically post all the billing activities on the server for ease. 

To sum up, you can choose the right ERP vendor after calculating the ERP software pricing scheme. Tell us about your type of business and industry and we will offer you the best business solutions. If you want to get a free demo of our tour product, click here!
Related articles: