A resignation letter is one of the documents that must be prepared by an employee who wants to resign from their company. It is undeniable that there are still many employees who are confused about where to start when writing resignation letters. In the end, the employee must look for good examples of resignation letters on the internet.
For those of you who are looking for resignation letters examples, BusinessTech will provide some examples that are commonly used by professionals. But first, let's see what a resignation letter exactly is.
Table of contents
Definition of Resignation Letter
A resignation letter is an official letter that contains a statement that an employee wants to resign from his job or company. When writing this letter, you need to pay attention to the form of delivery so that you still leave a positive impression at the company where you worked before.
There are some employees who submit their resignation verbally to their superiors or HR managers without submitting a resignation letter. However, it's a good idea to prepare a resignation letter to make it formal. In addition, a resignation letter shows that you are a professional.
Steps Before Writing a Letter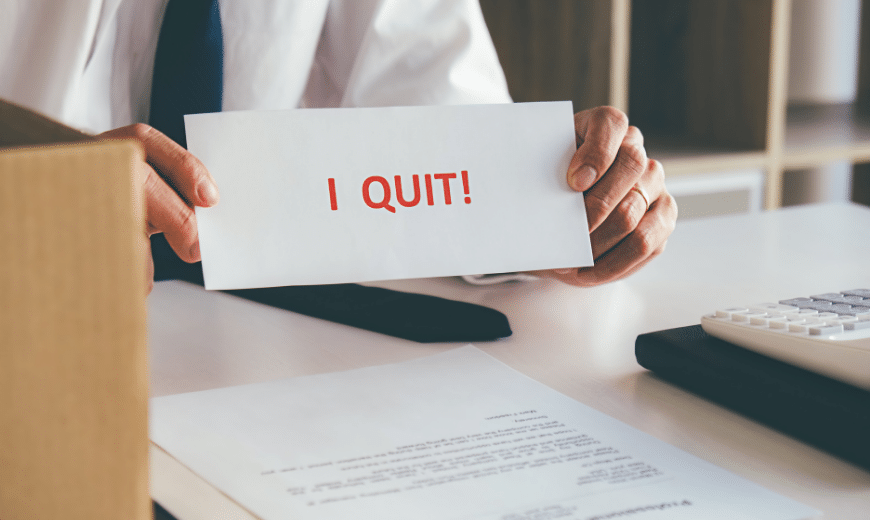 Discuss with superiors
This is an important thing to do before submitting a resignation letter. Your boss is one of the closest people to you in the company. Your boss needs to know the reason why you left the company. So, don't forget to prepare a logical reason why you are resigning!
Prepare yourself! Chances are you will get a re-offer
Know that you have the opportunity to receive a re-offer from your boss. Especially if you are a well-performing employee and have the potential to develop further. Chances are you will be offered a raise, perks, bonus, even a promotion. So, think twice before you decide to resign.
Re-checking the employment contract
It is very important for those of you who are planning to resign to re-examine the work contract that you signed when you started working. Usually, companies have requirements on how long you have to work for the company. If you resign less than the stipulated period of employment, you must prepare some money to pay the fine.
Read: The Best Way to Reduce Employee Turnover
Resignation Letter Examples
Like a letter in general, in a resignation letter, there are several things that you need to include on the letter: recipient, company name, company address, the contents of the letter such as the reason why you are resigning, the author's clear name, and the place and date you wrote the letter.
Here we provide examples of some resignation letters that you can use as references to write a good and correct resignation letter.
1. Resignation letter of an employee
September 10, 2021
Mr/Mrs. HRD
PT Sukses Sentosa
Manggis Street No. VI
Dear Mr/Mrs. Hrd,
I am Alexandria Marie, wishing to announce my resignation from PT Sehat Sentosa as a Data Analyst. This resignation submission is effective as of September 10, 2021.
Through this letter of resignation, I would like to thank you for the opportunity that has been given to PT Sehat Sentosa. I have gained many things and experiences that will help me develop in the future. I also want to apologize if there are mistakes intentionally or unintentionally during my work at this company.
Hopefully, PT Sehat Sentosa will be more successful in the future. Thank you for your attention.
Sincerely,
Alexandria Marie
---
2. Resignation letter of organizational member
September 13, 2021
General Head
Jakarta Youth Association
Merdeka Street No. 34
Through this letter, I would like to convey my intent and purpose to resign from the position of secretary. The reason behind my resignation was that I wanted to pursue my education so I could not spend time in this organization.
While working with the Jakarta Youth Association, I learned valuable lessons about organizing. Those experiences helped me grow to be better. I also want to apologize if I have mistakes and shortcomings during the organization.
This is my resignation letter. I would like to express my gratitude.
Sincerely,
Andrew Benjamin.
---
3. Resignation letter of Manager/Director
October 14, 2021
Head of HR Division
PT Selalu Sukses
Jalan Asia Afrika No. 45
Yours faithfully,
By the decision of the board of directors, through this application letter, I am:
Name: Agus Sutantyo
Position: Director
I am resigning from my manager position as of October 14, 2021.
During my service at PT Selalu Sukses, I have gained various valuable knowledge. The invaluable experience of my colleagues has helped me a lot to develop into a better person. Hopefully, I can become a more professional person in the future. I am also willing to help during the transition period for the smooth implementation of the tasks I left behind.
Hopefully, PT Always Sukses will advance to become a bigger, better company in the future.
Thank you for your attention.
Sincerely,
Agus Sutantyo
---
4. Resignation letter of teacher
September 3, 2021
Dear,
Headmistress of Bina Bangsa High School
Mawar Street No. 189
Yours faithfully,
Through this letter of resignation, I am:
Name: Rudi Suwarso
Position: Biology Teacher
Officially resigned from the position of a Biology teacher at Bina Bangsa Senior High School as of September 3, 2021.
In addition, I would also like to thank my fellow teachers and other staff at Bina Bangsa Senior High School for the experience and knowledge I have gained while teaching this school. On this occasion, I would also like to apologize to all levels of the School Committee and the Bina Bangsa Foundation if there is an unpleasant mistake.
Hopefully, Bina Bangsa High School will achieve more, both in academic and non-academic fields, so that it can continue to print the next generation of the nation who has a noble character, is intelligent, and can be proud.
Thank you for your attention.
Yours faithfully,
Rudi Suwarso
---
Reason for Submitting Resignation Letter
Family
Family can be an excuse for you to resign from your current company, especially if you live abroad. Taking care of your parents or sick family members is one of the good reasons for resigning.
Unable to develop self-potential further
Some employees want a challenge at work. They will feel bored if there is nothing else that he gets in his work other than salary. Usually, They want to get out of their comfort zone and want to try various new things.
Uncomfortable office conditions
The environment is one of the important factors for a person's level of comfort at work. Moreover, there are many reasons why office conditions are considered uncomfortable, including the commute time, poor sanitation, etc.
Experiencing high stress
No friends to share the stress in the office and poor communication with superiors are factors why employees gain stress from time to time. Thus, employees who cannot stand the pressure usually decide to resign in the end.
Want to continue the studies to a higher level
This excuse is used by employees who are still relatively young and want to chase their million dreams and future. They want to focus and continue their studies to a higher level to lead them to a brilliant career.
Read: 5 Effective Ways to Retain Your Best Employees
Conclusion
A resignation letter is not something you can take for granted. Even if you want to leave the company you work for, you still need to make a positive impression on the company and your boss. Professional attitude can be seen in the way the person leaves the workplace. Therefore, pay attention to the resignation letter that you will give to your boss. Maintain a positive image as an employee.
Start using Human Resource Management Software for easy employee management, including the resignation process. Visit the HashMicro website for more complete product information and schedule a free product demo that you will use to advance your company.