Your firm's performance and profits are constantly reliant on the consistency of your loyal clients, but sometimes your long-term clients may not leave you as most individuals in business do. A business proposal plays an important role in this situation. Therefore, the secret to constantly keeping your small company's doors open is consistently sending out high-quality, convincing proposals to various possibilities. They may fill the gap between you and prospective customers. A well-written company proposal often makes the difference between landing a potential customer and not.
A business proposal's main goal is to get a new contract, often with a new client without a working connection. Therefore, the purpose of a bid is also to set you apart from your rivals and show what value you will provide the potential client. To highlight your reputation and what your organization is capable of, testimonials and samples of previous projects are often offered. With your potential client, this kind of evidence promotes trust.
Also Read: Business Proposal Creation, Back to Basics!
Definition of a Business Proposal
A business proposal is a document you send to potential clients to close deals or generate interest in your goods and services. The idea that business proposals and plans are interchangeable is widespread. A proposal assists you in finding new clients rather than aiding in your quest for investors to finance your firm. Businesses, marketers, and B2B and B2C enterprises are the main users. In response to a customer request, you might deliver a business proposal. Even better, you offer it as a potential fix to draw your client's interest.
How to Create a Business Proposal
It would help if you comprehended the business before drafting your business proposal. If they sent you an RFP, read it thoroughly, so you understand what they are looking for. Additionally, it might be beneficial to speak with the new client on the phone or in-person to ensure you completely get their goals and the problem they're trying to fix.
When you've finished your research, it's time to begin creating your business proposal. Although there is no one-size-fits-all method for developing a business, let's look at some aspects recommendations often include.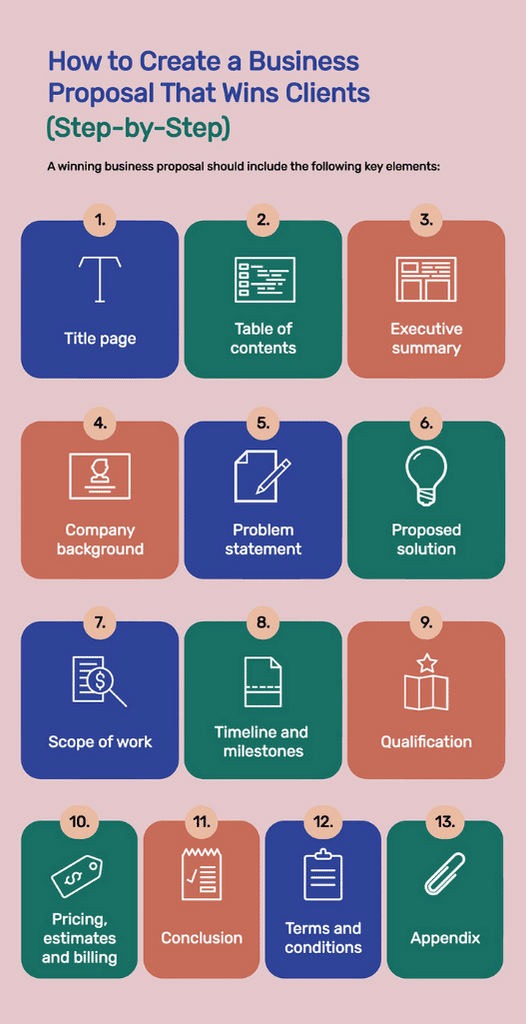 Business Proposal Ideas
When drafting a proposal, there are several things to consider. Here are some pointers to assist you:
Start with an outline

Include data and visual

Add social proof

Incorporate video into your proposal.

Use a call-to-action.

Include up-sell and add-on opportunities.

Create a sense of urgency.

Please keep it simple.

Decide for them.

Stay on brand.

Quality control.
Example of a Business Proposal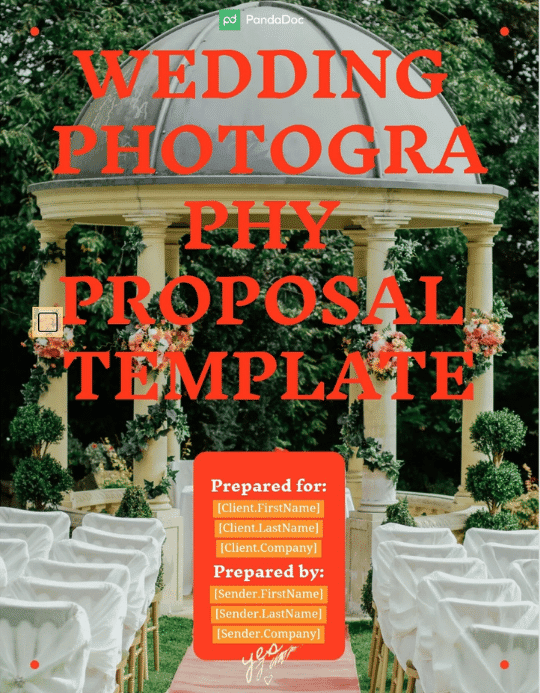 Both freelancers and photographic studios may use this wedding photography proposal template. You may easily refer to your special skills, examples of prior work, and the photographic services you provide.
Each step of the user experience design process is covered in this proposal, including initial research, prototype creation, and user testing. Use it to describe your UX design process, project delivery schedules, and prices to prospective clients.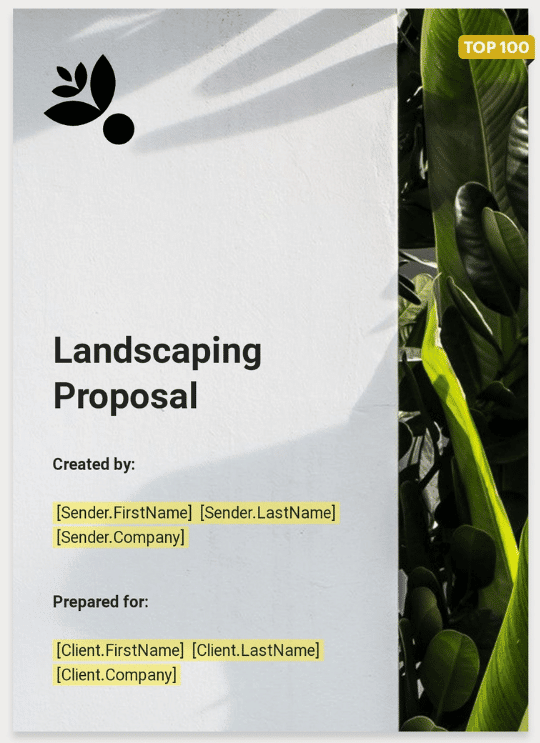 A messy office or yard can offer a mistaken impression regarding appearance. Use this landscaping proposal to explain to potential clients how you can improve the aesthetics of their planted space and what you will do to preserve it.
Also Read: Employment Contract| Matters, Types, and Examples
Templated
Event management
The goal of this paper from a hypothetical event management firm is to underline to a possible customer the importance of event promotion. The proposal outlines the approach and processes required to achieve the specified goals before detailing how the client would benefit from integrating event marketing tactics into their business.
Social media marketing
This proposal for social media marketing is specific and focused on the details. It details every aspect of the plan and procedure, from the executive summary to the terms and conditions. It is also made to be skimmed through by the reader. In the simplest terms possible, it outlines the client's issues, the strategy, the deliverables, and the financials. 
Content marketing
This elegant but simple proposal template shows a content marketing company pitching a potential client. Following the particular orientation, we began with an attention-grabbing title and an executive summary that concentrated on values. Because it is succinct and fully describes how the firm will carry out its content marketing plan, the template is a superb example of a business proposal.
Ecommerce management agency
This well-arranged example offers a potential client an e-commerce service. We begin with a strong executive summary, like in the preceding instances. The executive summary gives the section a more specific feel by outlining the client's issues.
Accounting
Accounting Business Proposal from Aashish Pahwa
This eye-catching proposal is a sample sales presentation for an accounting business to a prospective customer. We have developed the paper taking into mind the company's brand. It serves as a solid illustration of a professional business presentation. The accounting software from HashMicro contains capabilities that fit Singapore's current accounting standards. The software may also be modified to fit the way your business runs. You may check out the HashMicro accounting software's price calculations and try the free demo.
Conclusion
Writing successful business proposals that sell ultimately comes down to how well you understand your client, so you need to give the presentation a lot of thought. You will be able to get new clients, tasks, and projects with the help of a nicely designed and well-written proposal.

The final result of all of this is that your solopreneur brand only grows and becomes more well-known. You have everything you need to develop a polished proposal that impresses your clients and wins them over with the advice and templates offered in this post.