Most of us have had an experience with upselling in the past. If you've ever bought a new computer and been offered an extended warranty or asked whether you want to take advantage of a discount purchase when you bought a product online. You know all about upselling or probably upselling strategy.
Ultimately, upselling is the art of convincing your customers to purchase more than they originally intended. Since you've already convinced your leads to buy something from you, there's a good chance that they'll be open to the idea of a slightly bigger purchase.
Upselling can be an excellent way to increase your margins and build profit, even during difficult situations.
even more so if you use a membership management system. That can provide customer loyalty features so that they feel special.  Unfortunately, if you use the wrong upselling strategies, you risk rubbing your clients the wrong way by coming off as too pushy and money-hungry.
The key to successfully increasing a customer's average order value is to build a strategy that helps them see the value in the additional purchase.
Here are some steps to get you started.
Step 1: Set and Track Measurable Goals
What does your customer want to achieve by purchasing from your brand?
When you onboard a new customer, it's important to ensure that you've agreed on some measurable indicators that demonstrate whether your relationship is successful or not.
For instance, if you're selling accounting software to customers who want to speed up their bookkeeping processes. You might track the number of hours spent on invoicing and the number of errors that need to be fixed. 
Leveraging what you know about your customer's goals and priorities, you can work together on an action plan to help your client reach their milestones. During that plan, you can also suggest additional purchases and "add-ons" that might deliver extra benefits to your clients.
Because you can tie the purchase of each additional item to an actionable stage in your customer's strategy for success, it will be easier to convince them that the purchase is worth their while.
As you prove the value of that customer's investments with measurable metrics, you increase your chances of the same client trusting you to recommend the right resources again later.
Step 2: Identify the Right Customers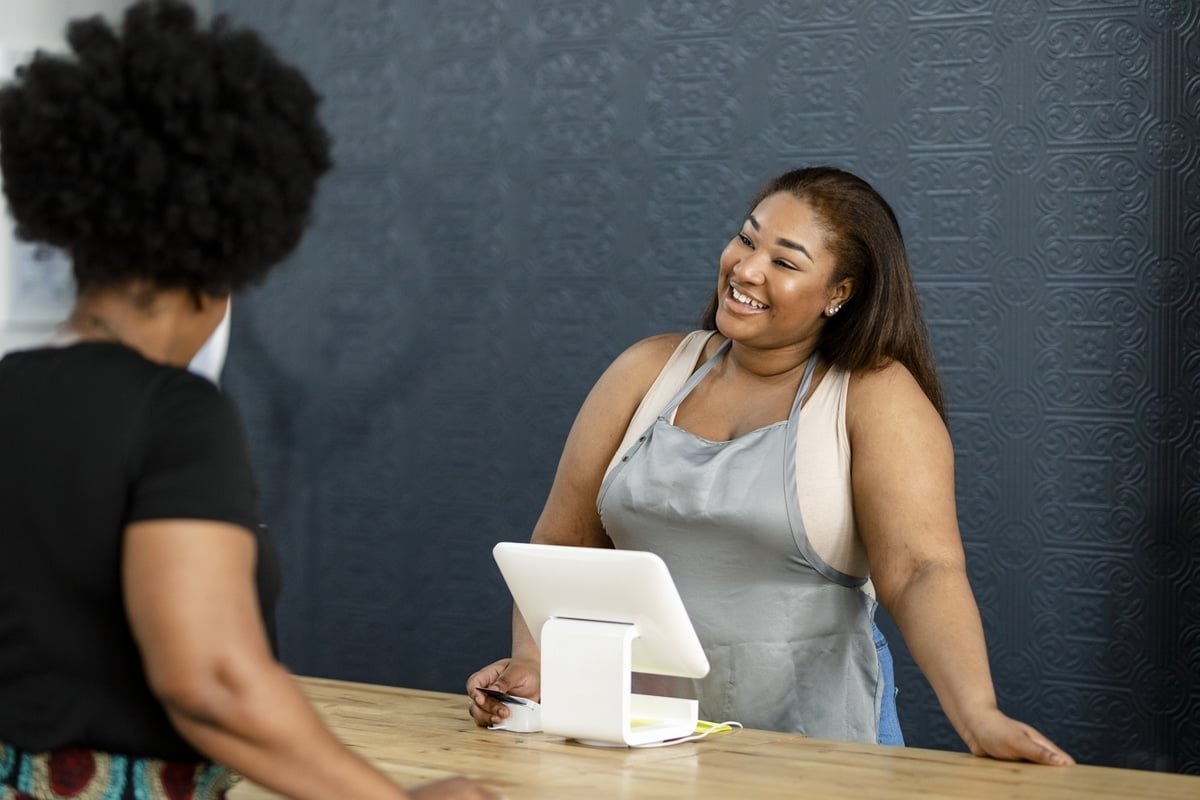 It's tempting to try and upsell every customer that you interact with. The more your clients spend, the better your profits become.
However, not every client will be the perfect choice for an upsell. Pushing extra products onto customers that don't really want or need them could harm your brand's reputation and chase otherwise loyal clients away.
Before you attempt an upselling strategy with any of your customers, make sure you ask yourself how the extra products are going to benefit the overall goals of that client.
If you can't determine how the extra purchase will make a positive change, then the upsell isn't necessary.
For instance, if you're thinking of pitching an upgrade for a social media marketing service to a company buying SEO strategies from you, but that client doesn't really have a huge audience on social media – don't force it.
You can suggest that exploring other marketing ideas might be a good idea but leave it at that. Don't keep pushing if your audience doesn't show interest.
Step 3: Look for Quick Wins to Deliver Immediate Results for Upselling Strategy
Convincing your customers to purchase additional products from you means earning their trust and respect. Your clients will only spend extra cash with you if you prove that you can drive tangible and positive outcomes for them.
With that in mind, it's worth making sure that you can deliver on some quick wins for your customers before you begin doubling down on upsells.
For instance, if your customer is purchasing a digital marketing package from you, then you could instantly show your value by giving them a free audit that shows them the areas where they can improve their visibility with strategies like social media and SEO.
If your customer decides not to continue with the suggestions you make after that, then that's fine. However, showing actual statistics and figures during the audit can demonstrate your expertise to your audience and boost your chances of getting extra cash too.
Finding quick wins doesn't have to require a lot of time and effort on your part. The key is demonstrating to your audience that you're committed to delivering some amazing returns for them – one way or another. Sales lead management can help you to sell smarter, faster, and more effectively, and boost your sales team.
Related article :
5 Tips to Pick the Best Cashier Program for Your Business
How to Create In-Store Experiences That Boost Traffic and Sales
Step 4: Pitch Ideas (Not Just Extra Products)
Just because you can clearly see the benefit of your customers buying an additional product or service from you, doesn't mean that your audience can see the same things.
Your clients need to understand why you consider an additional purchase to be useful to their brand. You can't just approach your customers and say, "Why don't you buy this email marketing service with your social media marketing package?"
Let your customers see the potential value of the extra purchase by pitching it as an idea. For instance, you could say that "having an email marketing strategy will allow you to further nurture the customers that you collect through social media".
Sales reps can pitch impressive ideas to customers in a range of unique ways, from cold-calling scripts to sending emails or social media messages.
Although these clients have already purchased from your company, selling something new can still be a challenge. Make sure your reps know how to convert potential purchases into ideas that your audience can understand.
Step 5: Show Your Value with Social Proof
There's a good chance that you've already earned a decent amount of trust from a client you're planning to do the upselling strategy.
These are the customers that have already purchased from you in the past or agreed to subscribe to your service. They already know that you have value to offer. But, they may not be willing to spend beyond a certain point until they can see proof of your value.
Most clients need evidence and cold-hard facts before they can make expensive purchasing decisions. This is particularly true in the B2B market where every investment can make or break a company's success.
Although it might take time for your customers to test your service and see the benefits for themselves. You can help them visualize their success by showing them the testimonials of other customers.
Social proof is one of the best ways to make your business more credible to any client.
If you know how many customers have used the add-on that you're trying to sell to your customer and achieved better results. Let them know.
If you've found that most of your clients that use this service see a 20% higher conversion rate, or a 30% greater chance of retaining customers, tell your audience that too.
Case studies of your work with other brands can be particularly helpful here.
Learn the Upselling Strategy the Right Way
Every company wants to generate the biggest possible sales from each of its clients or customers. Upselling is an excellent way to add to your customer's average order value.
However, this strategy will only benefit your brand if you know how to use it correctly.
Use the steps above to ensure that you're delivering genuine value to your customers with each upsell suggestion.
Written by: Michelle Laurey
—
Michelle Laurey works as a VA for small businesses. She loves talking about business, and productivity, and sharing her experience with others. Outside her keyboard, she spends time with her Kindle library or binge-watching Billions. Her superpower? Vinyasa flow! Talk to her on Twitter at @michelle_laurey.
Edited by Anatha
Conclusion
Upselling can certainly increase your profits. use ERP software from has micro to maximize it. It helps you to automate various aspects of business, suitable for multiple types of companies. Take more accurate decisions with the support of the most advanced business management software.