It's pretty well-known that a CRM system really does help business development. Every kind of it, be it small or big, has gained increasing revenue with the system. A Sales management system (CRM) helps businesses by automating every task that is related to your customers. In manual work, you probably use Excel sheets, sticky notes, or paper that are stacked on a big shelf to store customer information. It's obvious that this is very inefficient and that's why the CRM system is now so popular.
However, what companies don't really put into account is that choosing a CRM system, if not careful, could be very challenging. There's this risk in which CRM system implementation won't function and eventually becomes a failed investment. Therefore, how do you choose the right CRM system in the midst of vendor CRM sea? This article will discuss 5 crucial steps that every company must take before choosing a CRM system.
Read more: What is CRM? | A Comprehensive Overview of CRM Software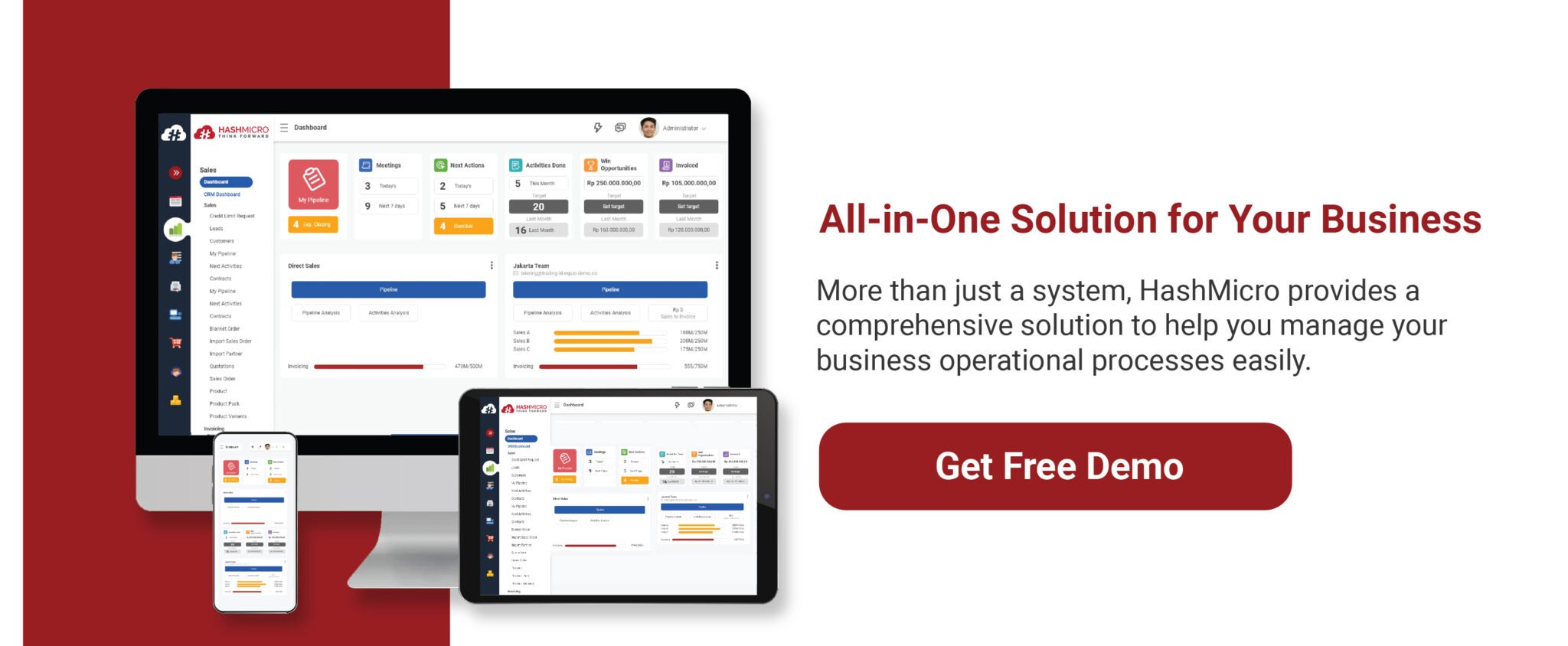 Daftar Isi
Define your needs
First of all, you need to identify what your company needs to understand how far this system can help you. To do that, you can list your problems one by one and then decide what features can help you. Focusing on the company's problems will deliver you to a successful system application. In addition, because your business operation is very unique, make sure that you choose one that can be customized easily.
Also read: 5 Reasons That Make a Cloud CRM App Important for Your Business
Learn the CRM System features
Now, you have noticed what goes wrong in your company. Then, you need to know what the system offers you. You won't able to know what you're looking for without knowing the products. In general, here are the CRM features and their benefits:
Contact management – helps you build and maintain the company's relationship with the customers
Lead management – helps you convert leads to customers in a strategic way
Predict sales – helps you predict when a project will be completed based on historical data
Improve communication – create better employees coordination in completing a project
Track e-mail – Track all sent e-mails and analyze the effectiveness
Centralized database – Customer data, proposal, video, case studies, contract, all stored in one database
Analysis – Companies can analyze all sales growth
More complex features and those that you need are also available. Indeed, all these features will help your business to be more efficient and fasten lead conversions.
Also read: 5 Advantages of Cloud CRM for your Business
Evaluate your choice to use CRM System
Based on the problems and what you need to solve them, you have to start sorting out the ERP or CRM vendors that provide your requirement. Generally, there are two types of CRM systems: on-premise and cloud-based. CRM on-premise is for you who don't want to export the company's data to the cloud due to security concerns. Meanwhile, most CRM companies use a cloud-based system to prioritize accessibility and, therefore, boost company efficiency. Your choice should be based on whether you are comfortable and supported with the use of the system.
Choose your CRM system
Because you're going to invest so much money, time, and human resource, you deserve the best CRM system that gives you a fast ROI. If you want an efficient company, you must choose one that goes with your needs and budget. CRM vendors come with various offers. There are systems with monthly or yearly subscriptions or you can get the features you need with one implementation payment. Whatever your choice is, make sure that it follows how your company works and not the other way.
Evaluate your choice with a demo
If you already have the name of the CRM vendor, ask for a demo and watch how their system works. You should ask a few questions as possible about the CRM system they provide.  The question is whether they provide the features you require, how effective the training is, how simple the application is, and whether the vendor offers a support team.
Conclusion

CRM system is very useful in leveraging your sales. However, to make use of it, you really need to pay attention to those five steps. As a reference, you can consider using CRM from HashMicro. CRM system from this Singaporean company has complete features and is very flexible to customize. Integrate Accounting Systems with CRM-Leads Systems to help you better control and analyze costs for sales. You can review its specification here.